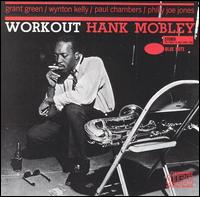 Workout
Leader: Hank Mobley
Label: Blue Note (BLP 4080)
Recorded at the legendary Van Gelder Studio in Englewood Cliffs on March 26th, 1961.
Tenor Sax - Hank Mobley Guitar - Grant Green Piano - Wynton Kelly Bass - Paul Chambers Drums - Philly Joe Jones
Grant Green's bell-like, blues-drenched sound is a perfect complement to Mobley's effortless lyricism, and joined by the incredible rhythm section of Wynton Kelly, Paul Chambers, and Philly Joe Jones, the music simply unwinds at the highest level. All of Mobley's compositions from this record are wonderful and rewarding tunes for musicians of every level.