Uh Huh

– Hank Mobley

A guaranteed finger-snapper!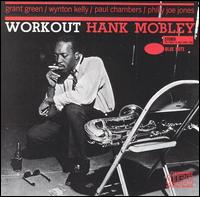 All selected items will be available for download after purchase.
Recording:

Hank Mobley - Workout

Recorded on:

March 26, 1961

Label:

Blue Note (BLP 4080)

Concert Key:

B-flat

Vocal Range:

, to

Style:

Swing (medium)
Tenor Sax - Hank Mobley
Guitar - Grant Green
Piano - Wynton Kelly
Bass - Paul Chambers
Drums - Philly Joe Jones
This head is built around a bluesy repeating triplet figure. It begins with a unison front line that repeats over a I-IV harmonic pattern—a very simple but satisfying A section. The bridge is in a question-and-answer style (both are indicated on all lead sheets). Uh Huh is a great choice for beginner ensembles as it introduces the concept of call and response but is very easy to master. Of course, as you can hear from the audio sample, experts and professionals will have a lot of fun with this one!
"Workout"
was recorded at the legendary
Van Gelder Studio
in Englewood Cliffs.
Uh Huh
is from Hank's "
Workout
" session. With a rhythm section of Wynton Kelly,
Paul Chambers
and
Philly Joe Jones
, you know Hank's going to swing hard. And by adding guitarist Grant Green, it's only going to "groove" harder. Hank would later record twice more with Grant Green, on Herbie Hancock's "My Point Of View" date in 1963, and Grant's own date in 1965, "I Want To Hold Your Hand," both also on Blue Note.
Uh Huh
is a favorite break song on the Conan O'Brian TV show.
Solo Piano Arrangement: Play both questions and answers yourself with Don Sickler's arrangement for solo piano. This arrangement is recommended for intermediate piano students.
The intersection of a blues and an AABA standard form, Hank Mobley's
Uh Huh
is the type of deeply swinging stomp that is home turf for
Grant Green
. After commencing the funk with the snappy call-and-response of Mobley's melody (Green's part is represented in the Guitar part) , Green lets pianist Wynton Kelly masterfully take care of the harmonic comping behind Mobley before launching into a stinging solo statement, shouting from that magical, murky meeting point of gritty blues and crisp bebop vocabulary.
Green's performance on
Uh Huh
is a masterclass in how to strike a groove and swing with confidence and authority.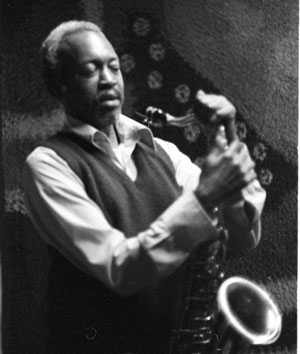 July 7, 1930 – May 30, 1986
Hank Mobley is one of the most acclaimed tenor saxophonists in modern jazz history. He is recognized by musicians and critics alike as one of the most important and eloquent jazz instrumentalists of all time. He recorded well over 100 of his own original compositions and left an indelible mark on the post-bop jazz scene. Read more...