Fuzz

– Bobby Jaspar

A medium up blues that features the bass in the melody. Separate Bass part available.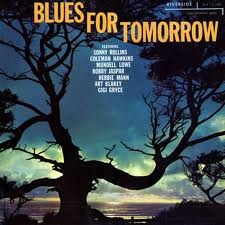 All selected items will be available for download after purchase.
Recording:

Bobby Jaspar - Blues For Tomorrow

Recorded on:

May 28, 1957

Label:

Riverside (RLP 12-243)

Concert Key:

B-flat

Vocal Range:

, to

Style:

Swing (medium up)
Tenor Sax - Bobby Jaspar
Piano - George Wallington
Bass - Wilbur Little
Drums - Elvin Jones
Bass and tenor sax play the melody in octaves. The melody repeats but the bass line changes the second time, so both choruses are notated in the Bass part.

This track wasn't on the original release of the other material from this session (Bobby Jaspar with George Wallington, Idrees Sulieman [Riverside RLP 12-240]), because there wasn't room for it. LPs (remember?) couldn't fit much over 20 minutes a side, less if you wanted it to sound good. The much later CD version contains this track as well as the original release titles.
The first release of this track was on the compilation album
"Blues For Tomorrow"
. Trumpeter
Idrees Sulieman
's
Doublemint
, which was on the original Jaspar release, is available in a print arrangement from Second Floor Music in an arrangement Don Sickler did for the T.S. Monk Sextet. See more details at
SecondFloorMusic.com
.
Bass History:
Recorded near the beginning of bassist Wilbur Little's long career, this 1957 recording captures elements of his early style. During this time, Little was the bassist for Tommy Flanagan's trio and for
J.J. Johnson
's quintet, which also featured Bobby Jaspar. On January 31, 1957, they recorded two more Jaspar compositions,
In A Little Provincial Town
and
Cette Chose
.
Bass Melodies
(Wilbur Little, bassist)
Yet another phenomenanal blues head that came out of the golden 1950s,
The Fuzz
is a fascinating exercise in how to get the most out of a phrase. Literally. The tune is just a four-bar phrase that is looped three successive times (as well as given a harmony part on the second chorus) yet it works exquisitely well as both a song and launching pad for improvisation. Jasper had the tenor sax and bass double the head statement in sympathetic cohesion, which results in a beautiful painting of sound, timbre and texture. This melody works favorably for bass because it uses a lot of conveniently-located open strings throughout, as well as a lot of small step-wise motion.
Make no mistake, there are a few exigent leaps that are keys to why the melody is such a gem, yet all of these large leaps are formed by the first note being an open string. This means there's no shifting, as the player could already have their hand set on the successive higher note as they play the lower open string. This tactic of employing open strings whenever possible is one that has been taken and used to full advantage by the heroes of the bass, for it is a facilitator in getting around the instrument, allowing for ease of execution and the satisfaction of playing what you hear and having it come out sounding GREAT!
Here's a great way to use this piece to push yourself: record yourself playing the bass clef melody part and the Bass part on separate tracks with a "Garage Band" type software, then mash the tracks together to hear yourself playing a duet. See if there is room for improvement. You can get tips for recording yourself playing along with other tracks from our
YouTube
channel:
--
How to Record Your Own Play-along in Garage Band
--
Slowing down music so you can play along
--
Playing along with a full speed track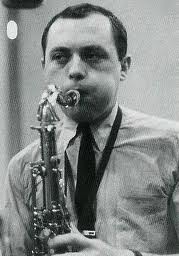 February 20, 1926 – March 4, 1963
Heralded as one of the handful of Europeans who created their own niche in the straight-ahead jazz age, cool jazz and hard bop saxophonist, flautist and composer Bobby Jaspar was born in Liège, Belgium to a family of musicians. As a teenager, Bobby played tenor in a Dixieland group with Toots Thielemans. After relocating to Paris in 1950, he recorded with Henri Renaud and Bernard Peiffer and began playing with touring Americans Jimmy Raney, Chet Baker and future wife Blossom Dearie. Blossom and Bobby moved to New York in 1956 where he was heralded the New Star due to his distinct phrasing and sound. Read more...