Roy Hargrove
October 16, 1969 – November 2, 2018
| | |
| --- | --- |
| Instrument | trumpet |
| Birthplace | Waco, TX |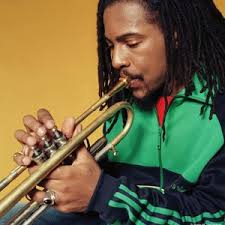 Roy Hargrove was a pioneer in modern hard-bop jazz and is widely regarded as one of the best trumpeters to emerge from the 1990s. As a high school student in Waco, Texas, young Roy met Wynton Marsalis in 1987. Impressed with the young man's talent, Wynton encouraged Roy. In April, 1988, while still a teenager, Roy traveled to NYC and slept on the couch in Don Sickler's rehearsal studio in preparation for his recording debut in the big leagues with Don ("Superblue"). Before leaving New York on that trip he also recorded with alto saxophonist Bobby Watson ("No Question About It").
In 1989, after a one-year stint at Berklee College of Music, Roy moved to New York, recording first with tenor saxophonist Ricky Ford alongside another incredible teenager, pianist Geoffrey Keezer, and then two different Carl Allen "Manhattan Projects" sessions, plus his own "Diamond In The Rough" session, all before the end of 1989.
In 1990, Roy's first recording as a leader, mentioned above, was released. By this point, his fame was growing rapidly in the jazz world: in the summer of 1991, he appeared in numerous European jazz festivals, including one feature as the frontman of the all-star package entitled "The Jazz Futures." By 1992, he was already at his third release as a leader and was a darling of critics worldwide.
But Roy has proved to be far more than just a young phenomenon, going on to show his deep artistry with his 1993 composition The Love Suite: In Mahogany, commissioned by the Lincoln Center Jazz Orchestra. The next year, on Verve, he recorded "The Tenors Of Our Time," a highly ambitious project featuring Johnny Griffin, Stanley Turrentine, Joe Henderson, and Joshua Redman. In 1998, he released the album that brought his first Grammy win, "Habana," featuring his own Afro-Cuban big band, Crisol. Four years later, he was again recognized by the Grammy Awards, this time for the more straight-ahead release entitled "Directions In Music."
Unlike many of his peers in the jazz world, Roy is not limited to just hard-bop, or even bop and Latin; his music is infused with a kaleidoscope of influences and his successes have reached far beyond jazz. His collaborations have included D'Angelo, Macy Gray, the Soultronics, Erykah Badu, and even the rapper Common. Yet he has remained true to his roots: his recent releases, 2008's "Earfood" and 2009's "Emergence," have been hard-bop and big band, respectively, showing that the flexibility of his style does not detract from his respect for jazz tradition.
Roy continued to be a major name in the jazz world, performing worldwide with the Roy Hargrove Quintet and his soul/jazz group, the RH Factor, until his death at 49. Roy's Facebook page.