Across The Pond

– Roy Hargrove

An intricate ballad with unpredictable melodic and harmonic motion.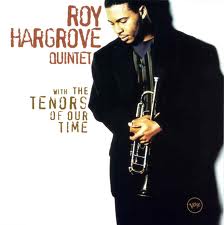 All selected items will be available for download after purchase.
Recording:

Roy Hargrove - With The Tenors Of Our Time

Recorded on:

January 16 & 17, 1994

Label:

Verve (314-523019-2)

Concert Key:

No key center

Vocal Range:

, to

Style:

Ballad
Trumpet - Roy Hargrove
Tenor Sax - Joshua Redman
Piano - Cyrus Chestnut
Bass - Rodney Whitaker
Drums - Gregory Hutchinson
Roy Hargrove is partial to ballads; this one is a striking example of his style at slow tempos. This song has no key center, but modulates to several tonalities with angular harmonic and melodic motion. Each section of the melody begins with alternation between two close or related chords; for example, the first two measures each move from C major to C♯ minor, with the melody arpeggiating these chords. Arpeggiated motion is used as a melodic motif throughout.

The form is relatively unusual, 32 measures but divided into 7-, 9-, 8-, and 8-measure sections with the last two of these almost the same. There are rhythm section hits that are used for the solos as well as the head. On this recording, the melody is played by the horns in octaves for the A section; trumpet melody with tenor sax fills for the first five measures of B, then octaves again for the rest of the head except for some harmony (notated in the lead sheet) at the end of the C and D sections.
This is one of two songs from this
album
featuring Joshua Redman; the other is
Mental Phrasing
. Hargrove and Redman had recorded together twice before this, in collective combos New York Stories (with
Bobby Watson
) and The Jazz Networks.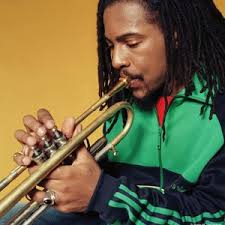 October 16, 1969 – November 2, 2018
Roy Hargrove was a pioneer in modern hard-bop jazz and is widely regarded as one of the best trumpeters to emerge from the 1990s. As a high school student in Waco, Texas, young Roy met Wynton Marsalis in 1987. Impressed with the young man's talent, Wynton encouraged Roy. In April, 1988, while still a teenager, Roy traveled to NYC and slept on the couch in Don Sickler's rehearsal studio in preparation for his recording debut in the big leagues with Don ("Superblue"). Before leaving New York on that trip he also recorded with alto saxophonist Bobby Watson ("No Question About It"). Read more...