Mental Phrasing

– Roy Hargrove

An upbeat swing that fuses modern jazz, hard bop, and even a bit of Latin into one slick package.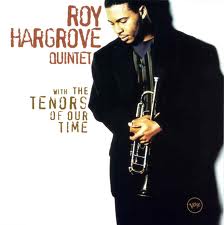 All selected items will be available for download after purchase.
Recording:

Roy Hargrove - With The Tenors Of Our Time

Recorded on:

January 16 & 17, 1994

Label:

Verve (314-523019-2)

Concert Key:

No key center

Vocal Range:

, to

Style:

Swing (medium up)
Trumpet - Roy Hargrove
Tenor Sax - Ron Blake, Joshua Redman
Piano - Cyrus Chestnut
Bass - Rodney Whitaker
Drums - Gregory Hutchinson
Video
Trumpeter Roy Hargrove plays his MENTAL PHRASING with Joshua Redman, Ron Blake, Peter Martin, Rodney Whitaker, and Gregory Hutcherson. Leverkusen 1994
Trumpeter Alex Campbell works on phrasing as he records himself playing the out melody along with the original recording of Roy Hargrove's Mental Phrasing.
This upbeat swing shows off the range of Roy Hargrove's compositional vocabulary. Fusing contemporary and classic vernacular, Roy creates a piece that shows his mastery of modern jazz and hard bop. The interjection of a brief Latin groove at the end of the head adds further intrigue. Choose this piece to get inside Roy Hargrove's writing and explore a variety of styles neatly packaged in one excellent composition.
Roy explains, "Mental Phrasing refers to the way I compose many of my pieces. I like to write tunes in my head, without the piano or my horn, to exercise my ears." When he composed this, in late 1993, Roy's star was rapidly rising. He used his increasing name recognition both to collaborate with living legends (like the title of this release, "Tenors Of Our Time," suggests), but also maintain his quintet as "an ever-improving forum for original music and important young players." The young/old dichotomy of this phase of Roy's musical career is represented audibly in Mental Phrasing: the cheerful melody is never quite singable, the swinging groove suddenly changes, the harmony, once predictable, suddenly shifts into a new direction.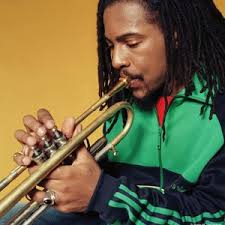 October 16, 1969 – November 2, 2018
Roy Hargrove was a pioneer in modern hard-bop jazz and is widely regarded as one of the best trumpeters to emerge from the 1990s. As a high school student in Waco, Texas, young Roy met Wynton Marsalis in 1987. Impressed with the young man's talent, Wynton encouraged Roy. In April, 1988, while still a teenager, Roy traveled to NYC and slept on the couch in Don Sickler's rehearsal studio in preparation for his recording debut in the big leagues with Don ("Superblue"). Before leaving New York on that trip he also recorded with alto saxophonist Bobby Watson ("No Question About It"). Read more...