Spiritual Companion

– Roy Hargrove

An expressive medium-tempo song with a light 12/8 Latin groove. Second parts are available for the quintet arrangement.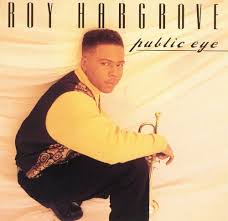 All selected items will be available for download after purchase.
Recording:

Roy Hargrove - Public Eye

Recorded on:

October, 1990

Label:

Novus (3113-2-N)

Concert Key:

G minor

Vocal Range:

, to

Style:

Swing (medium)
Trumpet - Roy Hargrove
Alto Sax - Antonio Hart
Piano - Stephen Scott
Bass - Christian McBride
Drums - Billy Higgins
Though this song has a 12/8 Latin groove, our lead sheets say "medium swing" because the melody figures are very swinging, never playing off the underlying 12/8 feel. The Latin groove is only in the drums; the bass plays a simple 2-feel.

This song is expressive and soulful, with an A section melody that uses mostly G minor pentatonic except for the first note (A). Many of the grace notes that Roy plays are included in our lead sheets; they give the song an added warmth that we think is very important. The form is 38 measures long, with an eight-measure A section followed by a 10-measure B section; C is the same as A, and then a four-measure D section (entirely different from B) leads to a contrasting eight-measure E section which swings with a 4-feel.

The relatively diatonic A and C sections contrast with the B section, which starts on E♭m7 and the changes move rather unpredictably toward E major, E♭ major, and D♭ major tonalities. The D section continues the diatonic, bluesy quality of C; the E section alternates two measures each of D♭maj7 and A♭maj7, with long melody notes starting on unexpected offbeats.

There are a few important rhythm section figures throughout the head, some of which line up with the melody while others fill in the longer melody notes. Solos are on the same form as the head.

About the arrangement: The two-horn arrangement has a complex blend of octaves, unison, and harmony. The horns begin in octaves, harmonizing in mostly fourths at the ends of the two phrases that make up the A section. The B section has the horns harmonized in thirds in some places and fourths in others, going to unison on this section's last two measures. The first two beats of the last measure of B are harmonized, and the rest of this measure is unison—but the second part switches back to octaves for C! The four-measure D section has octaves, thirds, and unison, while the long notes of the E section are harmonized mostly in thirds—except the second one which is contrastingly unison. There's a lot of information in both the song and the arrangement.
"
Public Eye
" was Roy's second album as a leader. It's also the second recording of bassist Christian McBride, who was only 18 years old and would record on another six albums before his 19th birthday! One of these was pianist Stephen Scott's debut album as a leader, "Something To Consider," which also features Hargrove. "Public Eye" was the only recording Roy made with master drummer Billy Higgins. Higgins and McBride recorded together on albums by an unusual selection of musicians including Teddy Edwards, Randy Weston, and John Scofield.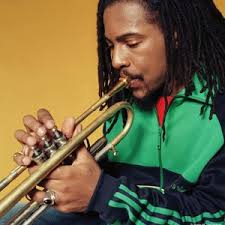 October 16, 1969 – November 2, 2018
Roy Hargrove was a pioneer in modern hard-bop jazz and is widely regarded as one of the best trumpeters to emerge from the 1990s. As a high school student in Waco, Texas, young Roy met Wynton Marsalis in 1987. Impressed with the young man's talent, Wynton encouraged Roy. In April, 1988, while still a teenager, Roy traveled to NYC and slept on the couch in Don Sickler's rehearsal studio in preparation for his recording debut in the big leagues with Don ("Superblue"). Before leaving New York on that trip he also recorded with alto saxophonist Bobby Watson ("No Question About It"). Read more...