Another Level

– Roy Hargrove

A bossa with colorful, unpredictable changes consisting mostly of minor chords. The form has two contrasting sections, one with a floating quality and the other more rhythmic. Second parts are available for the quintet arrangement.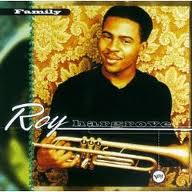 All selected items will be available for download after purchase.
Recording:

Roy Hargrove - Family

Recorded on:

January 26-29, 1995

Label:

Verve (314 527 630)

Concert Key:

No key center

Vocal Range:

, to

Style:

Latin (Bossa)
Trumpet - Roy Hargrove
Tenor Sax - Ron Blake
Piano - Stephen Scott
Bass - Rodney Whitaker
Drums - Gregory Hutchinson
This medium bossa has a short form with two contrasting sections, one with a floating feeling and the other more rhythmic. There is no key center; the open-ended, often unpredictable harmonies somewhat recall the '60s harmonic vocabulary of Wayne Shorter and Herbie Hancock. The 12-measure A section has a soaring melody over a loose 2-feel; the rhythm section comes together on a few figures that line up with the melody, notably beat 1 and the "and" of beat 2 in the first, third, and seventh measures. The ninth measure has a different rhythmic figure on a colorful D/E♭ chord. The B section is eight measures, with a more rhythmic melody supported by rhythm section figures. This section repeats and develops a two-measure phrase alternating A♭m9 and Bm9; the melody focuses on the ninths, especially in the fourth and eighth measures where these chords are moved around in whole steps. The rhythm section hits are not played in the solos.

There is a four-measure intro which begins with a rising figure in fourths, developed into a simpler, more lyrical phrase; it is also used as a coda. In this arrangement, the tenor sax and bass play this intro line, with the piano harmonizing a third above.

Second parts are available for the two-horn arrangement, which on the head combines unison, octaves, and wide-interval harmonies (sixths and sevenths). The B section is harmonized mostly in sevenths, with the tenor on the third of each chord where the trumpet melody has the ninth.

Click on the Bass Corner tab for information about the bass part.
For more from the "
Family
" album, check out
Roy Allan
. The quintet heard on this song is host to many special guests for other songs on this album, including pianist
Ronnie Mathews
(whose
Lament for Love
is included), Wynton Marsalis, David "Fathead" Newman and Jimmy Cobb. Roy's earlier Verve album full of special guests, "
With The Tenors Of Our Time
", had almost the same "house band" but with Cyrus Chestnut on piano. Stephen Scott also played on Roy's second album as a leader, "
Public Eye
" from 1990, as well as the 1995 album "Parker's Mood," a Charlie Parker tribute with a trio lineup of Hargrove, Scott, and Christian McBride.
A bass part is available, which contains a transcription of Rodney Whitaker's bass line on the first chorus of the in head. On the B section the bass plays the same figures as the piano and drums, but the A section's feel is loose and open-ended. Whitaker's lines shown in this part are just one way of getting through the changes and around the hits in this section; use the part as an inspiration for your own interpretation.

On the B section of the solos, Whitaker often plays the fourth of the minor chords. This results in a sus chord quality, for example D♭7sus for Abm7. These alternate chords are shown in all lead sheets and parts.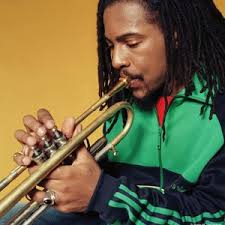 October 16, 1969 – November 2, 2018
Roy Hargrove was a pioneer in modern hard-bop jazz and is widely regarded as one of the best trumpeters to emerge from the 1990s. As a high school student in Waco, Texas, young Roy met Wynton Marsalis in 1987. Impressed with the young man's talent, Wynton encouraged Roy. In April, 1988, while still a teenager, Roy traveled to NYC and slept on the couch in Don Sickler's rehearsal studio in preparation for his recording debut in the big leagues with Don ("Superblue"). Before leaving New York on that trip he also recorded with alto saxophonist Bobby Watson ("No Question About It"). Read more...