Jim Rotondi
| | |
| --- | --- |
| Instrument | trumpet |
| Birthplace | Butte, MT |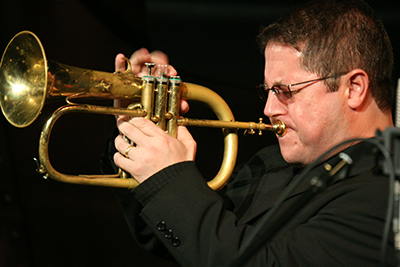 A major straight-ahead trumpeter and flugelhornist worldwide for twenty years, Jim Rotondi has charmed the jazz world with his warm tone, versatility and soulful improvisation. Born and raised in Montana—an unlikely place for a jazz musician—Jim was inspired by his musical family to take up the piano at age eight. At twelve, he switched to the trumpet. There was very little musical community to speak of in his hometown of Butte, but like many trumpeters, early exposure to a Clifford Brown vinyl set captured Jim's imagination and kindled within him a lifelong passion for jazz.
Although he was initially hesitant to commit to a life as a professional musician, choosing instead to go to a liberal arts college, he transferred after two years to the famed music program at the University of North Texas to pursue a degree in jazz. During his time there, he won first place in the International Trumpet Guild's Jazz Trumpet Competition of 1984. After graduating in 1985, he saved up money for a couple of years and moved to New York to begin his career in 1987.
Jim cut his teeth with some of the biggest names in the jazz and soul world: the Artie Shaw Big Band and Ray Charles. He started with Ray in 1991 and stayed on with him for a year and a half as a featured soloist. At that same time, Jim was regularly gigging with drummer Joe Farnsworth—a connection that led to a particularly important phase of his career: the One For All band. The band grew out of connections through Joe, and in the mid-1990s at Small's in NYC, pianist David Hazeltine, trombonist Steve Davis, tenor saxophonist Eric Alexander, bassist John Webber, Jim and Joe got together and played as One For All for the first time. This collaboration led to fifteen album releases and a very warm critical reception with David Adler of the JazzTimes dubbing them "New York's premier hard-bop supergroup." Due to the popularity of each band member individually, however, the group does not perform together frequently anymore.
Currently, Jim resides in Graz, Austria, where he holds a prestigious teaching position at the Graz Conservatory. He has released 13 albums as a leader as well as over 70 others as a sideman for luminaries like saxophonist George Coleman, drummer Ray Appleton and organist Charles Earland. Follow Jim's recent updates at JimRotondi.com.