Straight Up

– Eric Alexander & Jim Rotondi

This uptempo blues with a bridge works great as a set opener or closer. It was first recorded with a quintet arrangement, later expanded to a sextet on the One For All recording.
All selected items will be available for download after purchase.
Recording:

Eric Alexander - Straight Up

Recorded on:

August 21-22, 1992

Label:

Delmark (DE 461)

Concert Key:

F

Vocal Range:

, to

Style:

Swing (uptempo)
Trumpet - Jim Rotondi
Tenor Sax - Eric Alexander
Piano - Harold Mabern
Bass - John Webber
Drums - George Fludas
With its stop-time "kicker" at the beginning, Straight Up makes a great set opener or closer for any lineup. This uptempo song is a blues with a bridge: AABC in which the A and C sections are 12-measure blues. The blues changes on the head are slightly altered, not returning to the tonic after the IV chord but instead rising toward D7 (VI7). There is no melody on the bridge, which is related to the "rhythm changes" bridge with some tritone sub II-V7s. In the solos, the A and C sections use standard blues changes. The ending adds a rising diminished pattern in the last two measures of the melody. Our lead sheets show the top line of the piano voicings for rhythmic hits in the last two measures of the second A section.

About the arrangement: Second parts and Concert Condensed Score are available for the quintet arrangement from this recording. The horns start in octaves, with the tenor sax adding a countermelody with the changes in the 5th through 7th measures. The end of the A section is voiced in fifths, and the ending in sixths. The first measure an octave below the melody goes too low for alto sax, so our alto 2nd part starts in unison with the melody.

"
Straight Up
" was Eric Alexander's debut as a leader. This lineup is also heard on Eric's 1997 album "
Mode For Mabes
," expanded to a sextet with
Steve Davis
on trombone. "Mode For Mabes" includes a sequel to
Straight Up
, a quite similar song titled
Stay Straight.
All selected items will be available for download after purchase.
Recording:

One For All - Optimism

Recorded on:

February 16-17, 1998

Label:

Sharp Nine (CD 1010)

Concert Key:

F

Vocal Range:

, to

Style:

Swing (medium up)
Trumpet - Jim Rotondi
Trombone - Steve Davis
Tenor Sax - Eric Alexander
Piano - David Hazeltine
Bass - Peter Washington
Drums - Joe Farnsworth
The printed score and parts for this sextet arrangement is available from Second Floor Music at
MusicDispatch.com
—it's part of a One For All sextet set, but the lead sheets are available here. This slightly faster sextet version adds a melody on the bridge—bebop-styled eighth-note lines contrasting with the blues vocabulary of the A section. Also added are horn backgrounds for the piano solo, a send-off for the drums, and a longer ending that extends the final phrase in a series of fermatas. Our printed arrangement also has four other horn backgrounds based on Jim Rotondi's solo from this recording.
Two days before the "
Optimism
" sessions, Eric Alexander recorded with guitarist Pat Martino on the latter's album "Stone Blue." "Optimism" was the second One For All album, featuring the original lineup with Peter Washington on bass.
John Webber
, who played on the first recording of
Straight Up
, joined One For All eight years later, first recording with them on 2006's "
The Lineup
."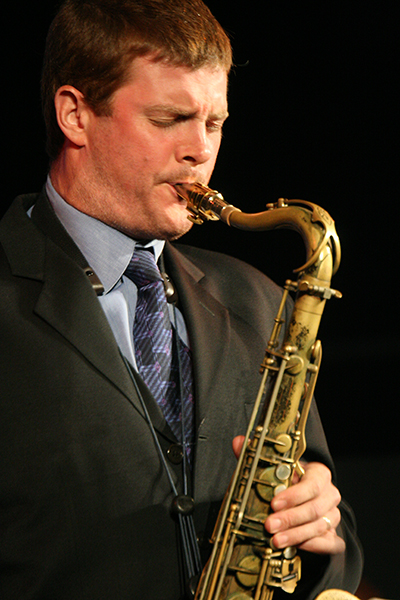 born on August 4, 1968
A straight-ahead jazz saxophonist, Eric Alexander is known for his sophisticated hard- and post-bop style. Born in Illinois, he began as a classical musician studying alto sax, but quickly began an obsession with the tenor saxophone at Indiana University at Bloomington. Inspired to pursue his musical pursuits further, Eric transferred to William Paterson College in New Jersey, where he studied with jazz legends like Harold Mabern, Joe Lovano, Norman Simmons and Rufus Reid. After receiving his degree, he moved back to the Midwest, where he became a fixture in the Chicago club scene touring with Charles Earland. Read more...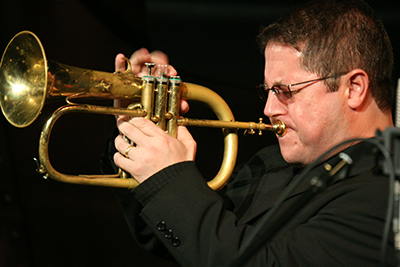 born on August 28, 1962
A major straight-ahead trumpeter and flugelhornist worldwide for twenty years, Jim Rotondi has charmed the jazz world with his warm tone, versatility and soulful improvisation. Born and raised in Montana—an unlikely place for a jazz musician—Jim was inspired by his musical family to take up the piano at age eight. At twelve, he switched to the trumpet. There was very little musical community to speak of in his hometown of Butte, but like many trumpeters, early exposure to a Clifford Brown vinyl set captured Jim's imagination and kindled within him a lifelong passion for jazz. Read more...