Designated Hitter

– Jim Rotondi

This 16-measure blues variant alternates eight measures of active melody with eight measures of active bass line. In addition to our lead sheets, we have a condensed score for the rhythm section.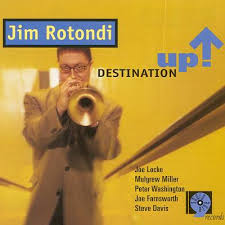 All selected items will be available for download after purchase.
Recording:

Jim Rotondi - Destination Up

Recorded on:

March 29-30, 2001

Label:

Sharp Nine (CD 1022)

Concert Key:

E-flat

Vocal Range:

, to

Style:

Swing (medium up)
Trumpet - Jim Rotondi
Vibes - Joe Locke
Piano - Mulgrew Miller
Bass - Peter Washington
Drums - Joe Farnsworth
This medium-up swinger has a dialogue between the melody and bass line. The 16-measure head is split up into eight measures with a more active melody and eight with an active bass line (played by piano and bass). The form doesn't initially feel like a blues, but there is certainly an underlying blues framework that shows up especially starting in the third measure, with E♭7 going to A♭7 in the fifth measure. The first two measures have rhythm section stop-time; after the A♭7 there are brief modulations to D and D♭. The second half of the head, with the bass line figure and longer melody notes, is an extended "turnaround" alternating two measures each of Fm7 and Emaj7. The solo changes are simple 16-measure blues, starting I-IV-I with the last eight measures the same as in the head.

There is an intro which starts with four measures of full band rhythmic hits in contrary motion—rising melody and descending bass line. This is followed by eight measures of pedal point with rhythmic bass line figures similar to those on the head, but all on one note. Finally, a four-measure drum fill sets up the head. The ending tags the last eight measures one more time.

Our Concert Condensed Score is the rhythm section part. It shows piano voicings and bass line for the intro, and the bass line figures in the second half of the head. These figures are shown below the staff in our lead sheets.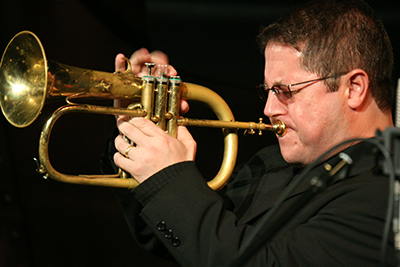 born on August 28, 1962
A major straight-ahead trumpeter and flugelhornist worldwide for twenty years, Jim Rotondi has charmed the jazz world with his warm tone, versatility and soulful improvisation. Born and raised in Montana—an unlikely place for a jazz musician—Jim was inspired by his musical family to take up the piano at age eight. At twelve, he switched to the trumpet. There was very little musical community to speak of in his hometown of Butte, but like many trumpeters, early exposure to a Clifford Brown vinyl set captured Jim's imagination and kindled within him a lifelong passion for jazz. Read more...