Reverence

– Jim Rotondi

This melodic 3/4 song has an unusual form, with repeated interludes featuring a busy bass line. A bass part is available with a transcription of Peter Washington's playing on the in head.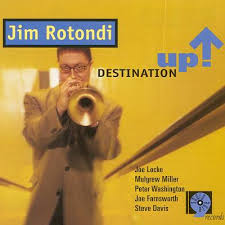 All selected items will be available for download after purchase.
Recording:

Jim Rotondi - Destination Up

Recorded on:

March 29-30, 2001

Label:

Sharp Nine (CD 1022)

Concert Key:

F minor

Vocal Range:

, to

Style:

3/4 swing (medium)
Trumpet - Jim Rotondi
Vibes - Joe Locke
Piano - Mulgrew Miller
Bass - Peter Washington
Drums - Joe Farnsworth
This 3/4 swinger features an eight-measure bass line that is not played with the melody or in the solo form, but appears as an intro and interlude within the head. Both this bass line and the melody are based on the rhythmic idea of anticipating each measure with triplets on the third beat. The bass line is angular and fourth-based, covering a wide range; on the recording it is doubled by the piano. After the bass line repeated twice as an intro (only the last repeat is included in the audio clip above), the eight-measure A section features a lyrical, diatonic melody starting with three measures of simple stop-time figures. Two A sections are followed by the bass line again. Then there is a second, 12-measure melodic section (C on the lead sheets), with a somewhat more angular melody and harmonies; these at first imply an E minor tonality but go a few other places before leading back to F minor. The bass line returns again before the solos.
It's an unusual form not unlike Peter Bernstein's
Lullaby For B
, but with a bit more definition in the form due to the melody dropping out for the bass-line interlude. The solo form is the equivalent of two A sections, a C section, and another eight measures alternating Fm7 and E♭m7 (with G♭7 at the end to lead back to the top). The out head has the same form as the in head, with the bass-line section after C leading to a final chord.
A bass part is available showing what Peter Washington plays on the in head of this recording; click on the Bass Corner tab for more details.
Jim Rotondi's first album for the Sharp Nine label, "
Destination Up!
" has
Steve Davis
added to this quintet lineup on two tracks. Vibraphonist Joe Locke played on two other Rotondi albums: "1000 Rainbows" from 2008, and "Dark Blue" in 2015. "Destination Up!" is the only Rotondi-led album with Mulgrew Miller, and in fact the only small group recording of the two together. Miller was a guest with Bill Mobley's big band, which featured Rotondi as well as saxophonist
Jon Gordon
, when they played at Smalls in 1996 (recorded on "Live At Smalls, Vol. 1 and 2").
The bass part features a transcription of Peter Washington's playing on the in head on this recording. The fifth through eighth measures of the A sections have a loose 1-feel, which Peter fills up with busy eighth-note and triplet figures. The first eight measures of the C section have the bass walking. The rhythms of the melody are written below the staff for the A section.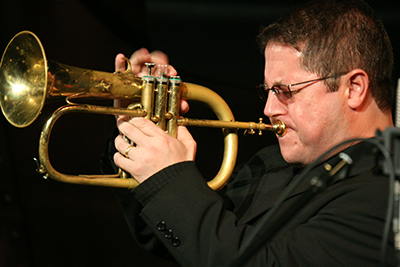 born on August 28, 1962
A major straight-ahead trumpeter and flugelhornist worldwide for twenty years, Jim Rotondi has charmed the jazz world with his warm tone, versatility and soulful improvisation. Born and raised in Montana—an unlikely place for a jazz musician—Jim was inspired by his musical family to take up the piano at age eight. At twelve, he switched to the trumpet. There was very little musical community to speak of in his hometown of Butte, but like many trumpeters, early exposure to a Clifford Brown vinyl set captured Jim's imagination and kindled within him a lifelong passion for jazz. Read more...