Lullaby For B

– Peter Bernstein

An elegant, melodic 3/4 song with an intricate form. It starts in E major but travels to several other keys.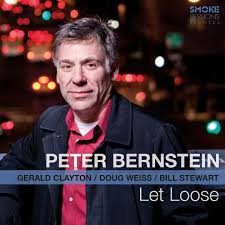 All selected items will be available for download after purchase.
Recording:

Peter Bernstein - Let Loose

Recorded on:

January 3, 2016

Label:

Smoke Sessions (SSR 1604)

Concert Key:

E

Vocal Range:

, to

Style:

Swing (medium)
Guitar - Peter Bernstein
Piano - Gerald Clayton
Bass - Doug Weiss
Drums - Bill Stewart
The elegant, flowing melody of this song makes it seem simple, but the form is in fact quite subtle and intricate. There is an 8-measure intro that also appears elsewhere within the form as a sort of interlude, with slight variations. The A section is 16 measures (really an 8-measure section twice), followed by an 8-measure B section and then the "interlude", a 12-measure C section, and a second "interlude" with a 6-measure tag. On the recording, this tag leads back to A; however, our lead sheet shows an alternate form with a third interlude after the tag which is essentially a vamp of the first two measures of the intro. The form on the lead sheet is A-B-interlude-C-interlude-tag-interlude, for a total of 66 measures. Another way to describe the form would be AABCDC'C".
Each of these sections in the form begins with a pedal point on the first four measures. The A sections start with an E pedal, using A7 on the fourth measure to lead to a minor II-V7 to D♭ major. The B section moves the pedal up to G♭ with shifting sus4 chord qualities, returning to E pedal on the interlude. The D7 that ends this section, which leads back to E on the intro, instead goes to a D♭ pedal for the C section. This section visits A major and G major before settling in F major at the end of the section. Again the interlude starts in E, eventually landing on D♭7 with both flat and sharp ninths and fifths on the tag. The upper extensions of this chord are A and G major triads. A chromatic descending turnaround leads back to E major for the A section (on the recording) or the third interlude (in the lead sheet). Through these constantly shifting key centers, the melody connects unexpected chords using common tones, especially G♯/A♭ when going between E and D♭ tonalities. The recording ends with the second interlude played twice: first with the same end as the intro, and then with the tag. The last chord is the first chord of the tag's last measure, a somewhat unexpected C7sus.
On this recording, the piano plays the melody on the intro. As with many other of his songs, Peter interprets the melody of the head freely with a distinctive laid-back time feel. We have a Melody Transcription that shows the rhythms and embellishments that he uses for the in head.
Melody Transcription
:
note from Don Sickler:
Going over Peter's original music with him has revealed some interesting insights I want to share. First of all, aside from his mastery of the guitar, Peter is also completely at home at the piano, and he first goes over his compositions with me at the piano. Most of his compositions contain a freedom of expression that I feel is very important to convey. All songs have a basic melody, and that is the purpose of our lead sheet editions of Peter's compositions. Peter, however, doesn't feel his melodies should be frozen into only one musical interpretation. Individual interpretation is vital to Peter, so rather than confuse you by trying to show different ways you can rhythmically explore his compositions in our lead sheet edition, we are often going to let you explore, through our Melody Transcription editions, how Peter took liberties on that day, on that specific recording. Examining his Melody Transcription interpretations will open new avenues of thought to you as you explore his wonderful melodies. Click
here
to get more details on what's behind Don Sickler's notation methods.
To see other Guitar Melody Transcriptions, type that phrase into the search box, upper right of every page.
"
Let Loose
" is Peter's first album as a leader for the Smoke Sessions label. He has played on three other Smoke Sessions albums: Jimmy Cobb's "The Original Mob" in February 2014, and one song each on Harold Mabern's "Afro Blue" (August 2014) and George Coleman's "The Master Speaks" (November 2015).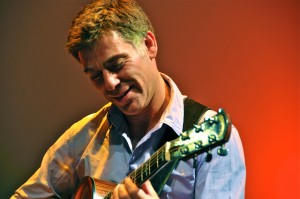 born on September 3, 1967
Jazz guitarist Peter Bernstein has been a part of the jazz scene in New York and abroad since 1989. During that time he has participated in over 80 recordings and numerous festival, concert and club performances with musicians from all generations. Read more...