Dena DeRose
| | |
| --- | --- |
| Instrument | piano, voice |
| Birthplace | Birmingham, NY |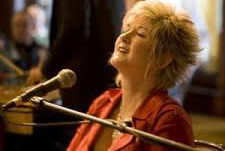 Dena DeRose is a well-known pianist, vocalist, composer, and educator. Born in Binghamton, NY, she began learning piano at age three. As a child, piano was her main musical passion, but she also took up organ and percussion in her youth. It was the music of Count Basie that initially pushed Dena into jazz, although she grew to idolize Hank Jones and Mulgrew Miller in her teen years. When she began studying at Binghamton University, she started to devote her life to jazz piano, practicing and playing around Binghamton constantly.
The constant practicing took its toll, leaving Dena with both carpal tunnel syndrome and arthritis. These conditions required multiple surgeries and forced her to abandon piano for two years. Without piano, Dena could not play the jazz music she so loved—until she sang at a local club on a dare. She enjoyed the experience so much that she began booking gigs as a singer, often working with Doug Beardsley's trio. By the time Dena was able to play piano again, singing was an integral part of her musical identity. She moved to New York City in 1991 at the age of 25 and gradually gained recognition for her unique vocal style and inventive piano playing.
Her first album, "Introducing Dena DeRose," was initially self-produced and released in 1996, although it was later re-released under Sharp Nine Records. Since then, she has recorded six other albums as leader. Her talents have earned her various positions in academia; she has worked within the SUNY system, Manhattan School of Music and the New School. She's currently head of the Jazz Vocal department at the University of Music and Dramatic Arts in Graz, Austria. In addition, she has taught at the Stanford Jazz Workshop for the past 15 years. She has worked with such names as Jay Clayton, Bill Henderson, Ingrid Jensen, the Ray Brown Trio, Clark Terry, Benny Golson, Mark Murphy, and Houston Person. Dena's latest news can be found at DenaDeRose.com.