Ruth

– Jim Rotondi

A subdued medium swinger with a simple triadic melody. Jim interprets this melody quite expressively; we have a Melody Transcription available that shows the way he plays both the in and out heads.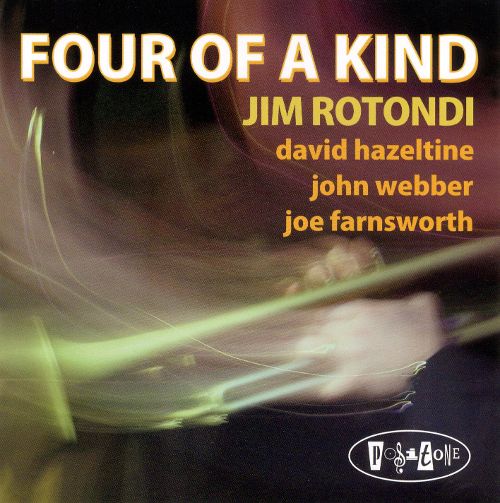 All selected items will be available for download after purchase.
Recording:

Jim Rotondi - Four Of A Kind

Recorded on:

June 7, 2007

Label:

Posi-Tone (PR 8034)

Concert Key:

E-flat minor, No key center

Vocal Range:

, to

Style:

Swing (medium)
Trumpet - Jim Rotondi
Piano - David Hazeltine
Bass - John Webber
Drums - Joe Farnsworth
A subdued medium swinger, this first version of Ruth showcases Jim's use of the Harmon mute. The melody is simple and laid-back; all phrases begin on offbeats, for example the first phrase starting on the "and" of beat 2. In the A section of this 32-measure form, the melody rises and falls triadically, outlining upper structures of the changes while keeping in E♭ Dorian. The rhythm section plays with a 2-feel here. A stop-time figure launches the bridge, which modulates to F minor, A minor, and D♭ major. Through most of the song, the melody stays on the upper extensions of the chords. There is a 12-measure intro, with descending melodic figures and changes that descend in a combination of stepwise and II-V7 motion from A♭m7 to four measures of E♭m7. The intro reappears as a coda; note that the lead sheet indicates a D.S. for the out head, and then D.C. for the intro-as-ending.

A Melody Transcription is available showing how Jim plays the in and out head on this recording. He sometimes adds notes and sometimes leaves some notes out, for example the first, pickup-like note of the head. All important articulations are notated in this transcription; there are several that he varies, especially in the second and fourth measures of the A section.
from Jim:
"
Ruth
was written and named for my mother, Ruth, who was my first (and still most significant) musical inspiration, and who at the age of 95 still teaches several private piano students per week."
The personnel of this recording is two-thirds of the sextet One For All, whose 2015 recording "The Third Decade" includes another version of
Ruth
. This version (which, like most of One For All's output, adds
Steve Davis
and
Eric Alexander
to the personnel heard on "Four Of A Kind") is rather faster and features Jim on flugelhorn instead of muted trumpet. The arrangement adds three-horn voicings on the intro, the bridge, and the last three measures of the A section.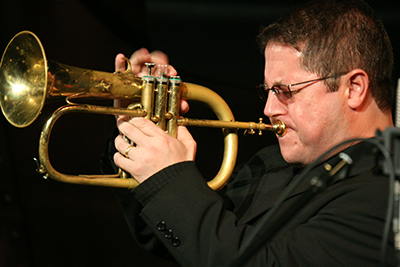 born on August 28, 1962
A major straight-ahead trumpeter and flugelhornist worldwide for twenty years, Jim Rotondi has charmed the jazz world with his warm tone, versatility and soulful improvisation. Born and raised in Montana—an unlikely place for a jazz musician—Jim was inspired by his musical family to take up the piano at age eight. At twelve, he switched to the trumpet. There was very little musical community to speak of in his hometown of Butte, but like many trumpeters, early exposure to a Clifford Brown vinyl set captured Jim's imagination and kindled within him a lifelong passion for jazz. Read more...