Mode For Mabes

– Eric Alexander & Jim Rotondi

Originally written for master pianist Harold Mabern, this song is a great example of the rhythmic, soul-infused style that he excelled at. Horn parts and a condensed score are available for the sextet arrangement.
All selected items will be available for download after purchase.
Recording:

Eric Alexander - Mode For Mabes

Recorded on:

May 20-21, 1997

Label:

Delmark (DE 500)

Concert Key:

F minor

Vocal Range:

, to

Style:

Latin Rock
Trumpet - Jim Rotondi
Trombone - Steve Davis
Tenor Sax - Eric Alexander
Piano - Harold Mabern
Bass - John Webber
Drums - George Fludas
Though not strictly a modal song, Mode For Mabes is in a style associated with Harold Mabern and others who were combining modal jazz and soul-jazz in the 1960s. It's a comparatively simple song, yet subtly detailed in its dynamics and articulations. The groove is equal parts Latin and rock, with a 2-feel in the bass. The changes are generally one every two measures, relatively tonal to F minor with slightly more modal-sounding G♭maj7 to Gm7 in the bridge.

There is an intro that starts with a series of rubato chords for a soloist to blow over. The piano then sets up tempo with a rhythmic two-measure vamp, alternating Fm7 and Gm7, and the bass and drums enter after four measures. This vamp reappears after the solos as a background for a drum solo, as well as after the head (repeated and fading out) where a horn soloist can continue. Our audio excerpt fades in on the second to last measure of the rubato chords, just before the piano starts the vamp.

Horn parts are available for the original sextet arrangement, as well as a Concert Condensed Score; rhythm section players can read the latter or the C lead sheet. Because the tenor sax (2nd part) solos over backgrounds on the intro and coda, we have 1st parts, separate from the lead sheets, which show the top line of these backgrounds. The horns play in octaves in the first A section but harmonize on the second A and C.

In the bridge of the head, there are rhythm section hits (in a two-measure pattern) that fill in around the melody. If you listen to this recording you will hear that the hits aren't exactly the same as shown on our lead sheets and horn parts. On the recording, pianist Harold Mabern (and the rest of the rhythm section) play beats 3 and 4 of the second measure instead of syncopating with the melody. These rhythms are shown in the Concert Condensed Score; they're quite hip when played with the melody, but they weren't what Jim Rotondi wrote in the original manuscript. Jim really indicated to have the rhythm section hit the "ands" of beats 2 and 3 with the melody in these measures, which is what we show in the lead sheets and parts. On Jim's later recording, the rhythm section hits with the melody as shown, but articulated short—click on the second album cover for more details.

The lineup on
this album
is almost the same as on Eric Alexander's 1992 debut album as a leader, "Straight Up" but with trombonist
Steve Davis
added. The three-horn section with Rotondi, Davis, and Alexander is best-known from the sextet One For All. The first album using the band name One For All was recorded in February 1997; however, Steve's album "Dig Deep" from two months earlier was the first recording of this horn section together and features almost the same personnel as One For All but with Nat Reeves on bass. One other not-quite-One For All album is Jim Rotondi's "Excursions" from 1998, with
David Hazeltine
on piano and Peter Washington on bass as in the original One For All, but Kenny Washington on drums replacing Joe Farnsworth.
All selected items will be available for download after purchase.
Recording:

We Five - We Five featuring Jim Rotondi

Recorded on:

July, 2017

Label:

MDI (105783)

Concert Key:

F minor

Vocal Range:

, to

Style:

Latin Rock
Flugelhorn - Jim Rotondi
Tenor Sax - Michael Cheret
Piano - Olivier Truchot
Bass - Brice Berrerd
Drums - Andrea Michelutti
This quintet recording is a bit faster and features a slightly different groove based on the intro vamp. The intro begins on the vamp without the rubato section, with the entire rhythm section playing from the beginning. The hits on the bridge syncopate with the melody, as shown in our lead sheets and parts, but the phrasing is different: each note is short except for the dotted quarter note at the end of each two-measure phrase. As in the original arrangement, the first A section is in octaves and the second A and C go to harmony. In the fifth measure of both the second A and C sections, the eighth notes in the melody are stretched out to a quarter-note triplet. The coda vamp does not fade but is only eight measures long, with the horns harmonized.
The album is available
here.
This recording features an international quintet led by French tenor saxophonist Michael Cheret. Drummer Andrea Michelutti, from Italy, is best known for his work with saxophonist Jerry Bergonzi, who was one of Cheret's mentors (you can see a photo of Bergonzi and Cheret in the latter's bio page on his
website
).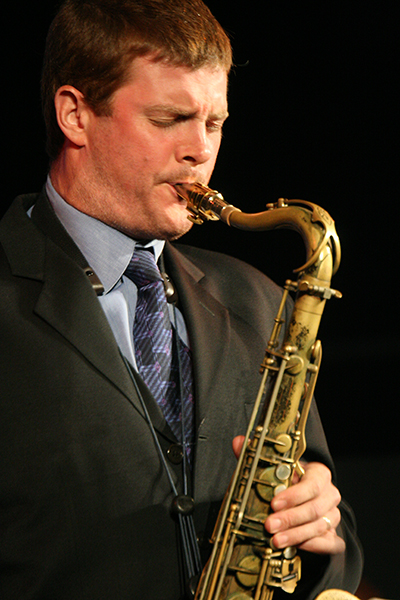 born on August 4, 1968
A straight-ahead jazz saxophonist, Eric Alexander is known for his sophisticated hard- and post-bop style. Born in Illinois, he began as a classical musician studying alto sax, but quickly began an obsession with the tenor saxophone at Indiana University at Bloomington. Inspired to pursue his musical pursuits further, Eric transferred to William Paterson College in New Jersey, where he studied with jazz legends like Harold Mabern, Joe Lovano, Norman Simmons and Rufus Reid. After receiving his degree, he moved back to the Midwest, where he became a fixture in the Chicago club scene touring with Charles Earland. Read more...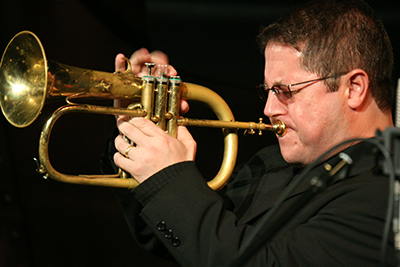 born on August 28, 1962
A major straight-ahead trumpeter and flugelhornist worldwide for twenty years, Jim Rotondi has charmed the jazz world with his warm tone, versatility and soulful improvisation. Born and raised in Montana—an unlikely place for a jazz musician—Jim was inspired by his musical family to take up the piano at age eight. At twelve, he switched to the trumpet. There was very little musical community to speak of in his hometown of Butte, but like many trumpeters, early exposure to a Clifford Brown vinyl set captured Jim's imagination and kindled within him a lifelong passion for jazz. Read more...