Blues For B.C.

– Jim Rotondi

A 16-measure minor blues with a stop-time head, this song has a classic post-bop kick.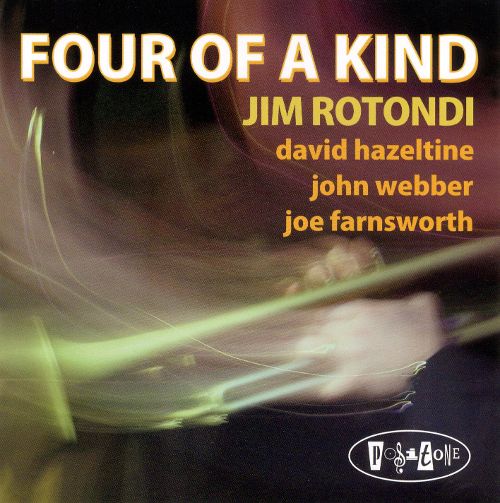 All selected items will be available for download after purchase.
Recording:

Jim Rotondi - Four Of A Kind

Recorded on:

June 7, 2007

Label:

Posi-Tone (PR 8034)

Concert Key:

F minor

Vocal Range:

, to

Style:

Swing (medium up)
Trumpet - Jim Rotondi
Piano - David Hazeltine
Bass - John Webber
Drums - Joe Farnsworth
Many composers have extended the standard 12-measure blues form to 16 measures in different ways. Blues For B.C. is one that extends the last four measures of the 12-measure blues into eight measures. The changes have a lot of passing chords, which in the solo form are mostly II-V7s. The head uses stop-time and similar rhythm section figures almost throughout; the melody is a classic post-bop blues head combining blues-scale and bebop vocabulary. The out melody ends on G♭maj7, one of those endings that use the major tonality of the bII chord for a more "tonic-like" deceptive cadence.
Jim says this composition "was written for another location I have often visited, the Canadian province of British Columbia. I used to go out to Cory Weeds' Cellar Jazz Club in Vancouver once or twice a year until I moved to Europe."
Jim Rotondi's ninth album as a leader, "
Four Of A Kind
" is the first where he was the sole horn player throughout the album. Coincidentally, another piece titled
Blues For B.C.
was recorded a week after this session by the avant-garde duo of multi-instrumentalist Matt Lavelle and guitarist Barry Chabala.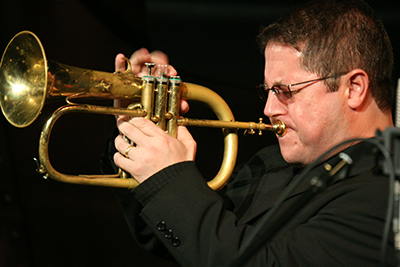 born on August 28, 1962
A major straight-ahead trumpeter and flugelhornist worldwide for twenty years, Jim Rotondi has charmed the jazz world with his warm tone, versatility and soulful improvisation. Born and raised in Montana—an unlikely place for a jazz musician—Jim was inspired by his musical family to take up the piano at age eight. At twelve, he switched to the trumpet. There was very little musical community to speak of in his hometown of Butte, but like many trumpeters, early exposure to a Clifford Brown vinyl set captured Jim's imagination and kindled within him a lifelong passion for jazz. Read more...