On Y Va

– Jim Rotondi

This medium-up swinger is blues-like but not quite a blues. The head alternates a convoluted melody line with simple rhythm section figures. Second parts and a Concert Condensed Score are available for the quintet arrangement.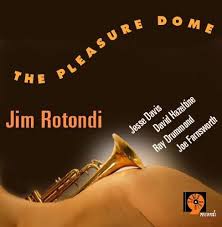 All selected items will be available for download after purchase.
Recording:

Jim Rotondi - Pleasure Dome

Recorded on:

October 10, 2003

Label:

Sharp Nine (1029)

Concert Key:

C

Vocal Range:

, to

Style:

Swing (medium up)
Trumpet - Jim Rotondi
Alto Sax - Jesse Davis
Piano - David Hazeltine
Bass - Ray Drummond
Drums - Joe Farnsworth
Though this song feels like a blues variant, it is not really a blues because it lacks a IV chord. The melody has an AAB-like form but without internal repeats; it is played twice in and out. The 16-measure A section alternates between four measures of active melody over a static rhythm section chord and four measures of rhythm section alone, with a simple piano figure over 4-feel in the bass and drums. The melody line is mostly in eighth notes, generally rising and falling but with a convoluted structure that in the 9th through 12th measures moves away from the underlying tonality. (This melody is notably "trumpet-istic" like many
Ryan Kisor
compositions.)
C7 is the only chord throughout the A section. The B section is 12 measures long and begins with a rhythmic bass figure, answered by the horns; the melody then rises simply and falls more rhythmically, with the changes following the same directions mostly stepwise. There are no V7-I resolutions in the changes, but the last two chords are a slight variation on the classic "jazz deceptive cadence:" Dm7 to D♭maj7.
The solo form is 24 measures long, starting with eight measures of C7 instead of the head's 16, followed by four measures of Emaj7 similar to the beginning of the B section. The remaining 12 measures of the solo changes are the same as the last six measures of the head changes, with each chord held for twice as long.
There is an intro which repeats the piano's "response" figure as in the fifth through eighth measures of the head. A Concert Condensed Score is available: it can be used as a rhythm section part; second parts are available for the quintet arrangement. The horns are harmonized in the B section but play unison in the A section.
On Y Va
(French for "let's go") comes from Jim's second album for Sharp Nine. It's the only recording with Jim alongside saxophonist Jesse Davis. It's also the only Rotondi-led album with Ray Drummond on bass, who occasionally played alongside Rotondi,
David Hazeltine
, and Joe Farnsworth in the group One For All before
John Webber
joined that group.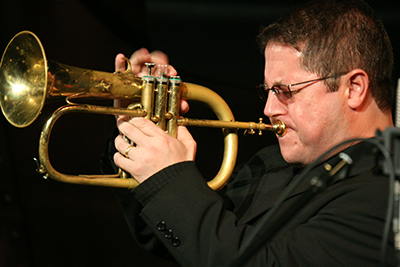 born on August 28, 1962
A major straight-ahead trumpeter and flugelhornist worldwide for twenty years, Jim Rotondi has charmed the jazz world with his warm tone, versatility and soulful improvisation. Born and raised in Montana—an unlikely place for a jazz musician—Jim was inspired by his musical family to take up the piano at age eight. At twelve, he switched to the trumpet. There was very little musical community to speak of in his hometown of Butte, but like many trumpeters, early exposure to a Clifford Brown vinyl set captured Jim's imagination and kindled within him a lifelong passion for jazz. Read more...