Ryan Kisor
| | |
| --- | --- |
| Instrument | trumpet |
| Birthplace | Sioux City, IA |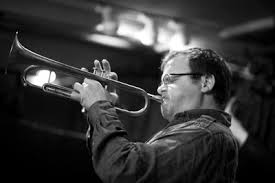 Perhaps best known for his work with the Jazz at Lincoln Center Orchestra, Ryan Kisor is an accomplished trumpeter and one of the rising names on the jazz scene. Firmly rooted in the post-bop tradition, Ryan has obviously done a lot of listening to giants like Clifford Brown and Booker Little and Woody Shaw. Of course, he's also been influenced by contemporary mentors including Clark Terry and Wynton Marsalis, both masters of the art of great trumpet playing.
The Sioux City, Iowa, native took up trumpet at a young age, learning the instrument from his father. He began playing with a local band at age ten and started to study classically at twelve. By high school, he was already playing with all-star high school bands. His biggest break came shortly thereafter when he entered and won the first-ever 1990 Thelonious Monk Institute's trumpet competition. Don Sickler, as artistic director for the Monk competitions: "Sitting with the judges and hearing Ryan's performance of Night In Tunisia at the semifinals is still one of the most moving musical experiences I've had. I wasn't alone; the judges were also blown away."
To further his development, Ryan continued his studies at the Manhattan School of Music in 1991, where he studied with the late trumpeter Lew Soloff. The Monk win brought Ryan a record contract with Columbia Records which resulted in two releases, including sidemen like saxophonists Ravi Coltrane, Chris Potter, Mark Turner and David Sanchez, pianist Mulgrew Miller, bassist Christian McBride, and drummers Lewis Nash and Jack DeJohnette, among others.
In 1994, Ryan joined the Jazz at Lincoln Center Orchestra, with whom he continues to play today. After playing impeccable section work, and taking marvelous solos, in recent years he has added the art of "lead trumpet playing" to his repertoire. He has continued to develop his career actively as a both a leader and a sideman. Since his first two releases, he has released 13 more albums as a leader (15 in all), many featuring his original compositions. He has also performed and/or recorded with the Mingus Big Band, the Gil Evans Orchestra, Horace Silver, Gerry Mulligan, Charlie Haden's Liberation Music Orchestra, the Carnegie Hall Jazz Band, and the Philip Morris Jazz All-Stars, among others. Still in his early 40s, it is clear that the best for Ryan Kisor is still ahead of him as his originality continues to grow.