Dirty Ernie

– Ryan Kisor

This blues head, like many Kisor songs, is a challenging post-bop workout.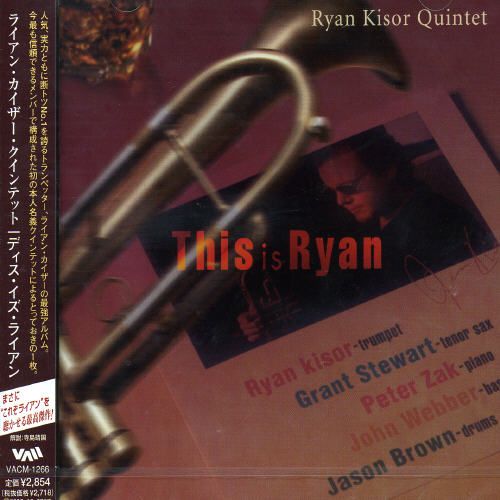 All selected items will be available for download after purchase.
Recording:

Ryan Kisor - This Is Ryan

Recorded on:

March 8, 2005

Label:

Video Arts Music (VACM 1266)

Concert Key:

G

Vocal Range:

, to

Style:

Swing (medium up)
Trumpet - Ryan Kisor
Tenor Sax - Grant Stewart
Piano - Peter Zak
Bass - John Webber
Drums - Jason Brown
Despite its brief form, Dirty Ernie is yet another Kisor challenge. A blues head in G, it starts innocently enough with some diatonic phrases, then in the fourth measure leaps up in a series of fifths and sixths (alternated with descending seconds) over a tritone sub D♭7. The next three measures descend in a similar but less angular pentatonic pattern. The speed of the line increases to 16th notes in the eighth measure before returning to 8th notes, snaking up and down through the changes of the last four measures with an unexpected Gmaj7(♯11) as the tonic in the 11th measure.

After the out head, there is a two-measure drum fill followed by the last two measures' line one more time. The final chord lines up with the final note of the melody, E♭; in the head it functions as the ♭9 of D7, but in the ending it is the ♯5 of the tonic G7.
The album title may suggest some sort of debut, but in fact "
This Is Ryan
" is Kisor's 13th album as a leader, and his fifth for the Video Arts label. Saxophonist
Grant Stewart
also played on Ryan's 2002 album "Awakening;" the same horn section is heard on pianist Ehud Asherie's debut album, "Lockout," from 2007. "This Is Ryan" is to date the only recording with Kisor alongside drummer Jason Brown.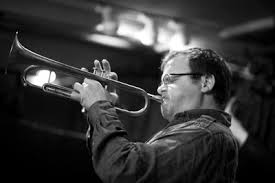 born on April 12, 1973
Perhaps best known for his work with the Jazz at Lincoln Center Orchestra, Ryan Kisor is an accomplished trumpeter and one of the rising names on the jazz scene. Firmly rooted in the post-bop tradition, Ryan has obviously done a lot of listening to giants like Clifford Brown and Booker Little and Woody Shaw. Of course, he's also been influenced by contemporary mentors including Clark Terry and Wynton Marsalis, both masters of the art of great trumpet playing. Read more...