What Can I Say?

– Ryan Kisor

A mellow medium swinger with a few unexpected twists. Though mostly in 4/4, the form contains two measures of 5/4 in both the head and solos.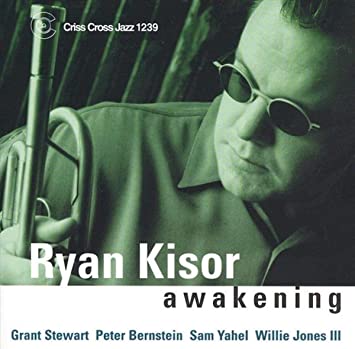 All selected items will be available for download after purchase.
Recording:

Ryan Kisor - Awakening

Recorded on:

December 19, 2002

Label:

Criss Cross Jazz (1239)

Concert Key:

B-flat

Vocal Range:

, to

Style:

Swing (medium)
Trumpet - Ryan Kisor
Tenor Sax - Grant Stewart
Guitar - Peter Bernstein
Organ - Sam Yahel
Drums - Willie Jones, III
This mellow medium swinger is one of Ryan Kisor's easier compositions. However, as with several of his songs, this one has a few unexpected twists that make it particularly interesting. Most notably, in both the head and solos there are two measures of 5/4 at the end of the B section that break up the 4/4 of the rest of the song.

The form is 24-measure ABC, eight measures in each section; the melody phrases often extend over the barlines and break up the evenness of this form. This is also accentuated by rhythm section hits on beat 4 of the third and fifth measures. The B section begins like the A section a fifth higher; C starts the same as A, but goes up into the third measure where the A section melody goes down.

The changes are relatively straightforward with many II-V7s; these move in a generally descending cycle until the two 5/4 measures which have chromatically rising major chords. The last four measures use D♭maj7 and G♭maj7 to anticipate F7(♭9), which is held out in the last two measures, resulting in a cyclical chord progression. This final chord is held out, not resolving, at the end of the out head.

On the recording, the horns and guitar play the melody in unison. The tenor sax plays an octave lower in the B section, starting with the pickup to the last measure of A. The only harmony note in the horns is in the last two measures; this is shown in all lead sheets. Our B♭ tenor sax and C bass clef lead sheets both have the melody in the range where the tenor plays it on the recording.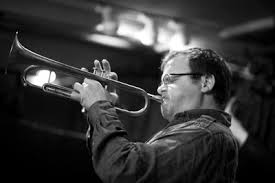 born on April 12, 1973
Perhaps best known for his work with the Jazz at Lincoln Center Orchestra, Ryan Kisor is an accomplished trumpeter and one of the rising names on the jazz scene. Firmly rooted in the post-bop tradition, Ryan has obviously done a lot of listening to giants like Clifford Brown and Booker Little and Woody Shaw. Of course, he's also been influenced by contemporary mentors including Clark Terry and Wynton Marsalis, both masters of the art of great trumpet playing. Read more...