Manhattan Bridge

– Grant Stewart

A post-bop ballad with a colorful chord progression. The melody has several built-in embellishments.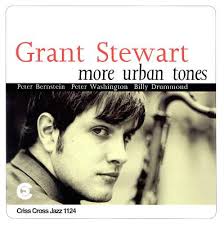 All selected items will be available for download after purchase.
Recording:

Grant Stewart - More Urban Tones

Recorded on:

June 15, 1995

Label:

Criss Cross Jazz (1124)

Concert Key:

F

Vocal Range:

, to

Style:

Ballad
Tenor Sax - Grant Stewart, Chris Byars, Jay Collins
Guitar - Peter Bernstein
Bass - Peter Washington
Drums - Billy Drummond
This 16-measure post-bop ballad has an unusual chord progression characterized by downward root motion. The first seven measures move almost entirely down in half steps, from F to B with one tritone substitution (B♭ instead of E). After that the motion is more varied, but still the direction is generally down; the 11th measure breaks the pattern of one chord per measure, with a chord on each beat. Though the G major in the 13th measure seems like a final resting place, the key center is still recognizably F, as the last measure resolves back to F for the next chorus; the coda is also based on F. Through this consistent harmonic progression, the melody is varied, connecting the chords with smooth voice leading; several ornamentations are written in.
Manhattan Bridge
comes from "More Urban Tones," the sequel to Stewart's first Criss Cross album "Downtown Sounds." "More Urban Tones" is mostly a quartet album, but fellow tenor saxophonists Jay Collins and Chris Byars are added on this song only. Also on this album is a quartet version of
Gigi Gryce
's
Nica's Tempo
. Stewart's recording has its 20th anniversary this year, and the original
Nica's Tempo
was recorded 60 years ago, in 1955. As you can tell from Stewart's version, this title is relevant and it's a song he likes to play. Two of his video performances are shown on the
Nica's Tempo
song page.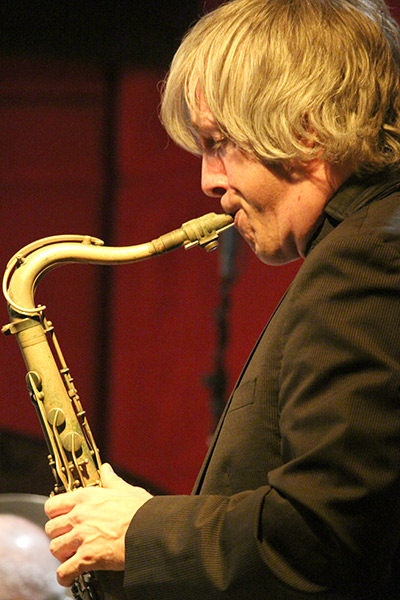 born on June 4, 1971
A swinging tenor saxophonist, Grant Stewart is a powerful, expressive stylist in today's jazz scene. Born in Toronto, Stewart's early exposure to giants like Charlie Parker and Coleman Hawkins came from his father, an English teacher and semi-professional guitarist. By the age of 14 Grant was so advanced on the alto saxophone that he began playing professionally in the Pete Schofield Big Band. At 17, he made the switch to tenor and starting playing with some of his greatest influences in the Toronto jazz scene, Pat LaBarbera and Bob Mover. (He still does play alto saxophone to this day, but his love of artists like John Coltrane and Sonny Rollins encouraged him to make tenor his primary instrument.) Read more...