Sonny Rollins
| | |
| --- | --- |
| Instrument | tenor sax |
| Birthplace | New York, NY |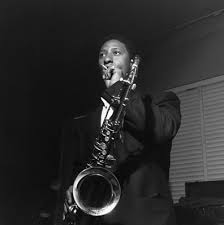 Tenor saxophone legend Sonny Rollins is without question one of the most important and influential jazz musicians and composers in history. His enduring career has made him both a hallmark of the bebop and hardbop eras and a great contemporary player—and a forefront of every jazz movement in between. Miles Davis himself considered Newk (a nickname inspired by his resemblance to the Brooklyn Dodgers' pitcher Don Newcombe) to be the greatest tenor saxophonist of all time.
Sonny was born in New York City to parents from the US Virgin Islands. He received his first saxophone at age 13 but began his musicianship on the piano. He took up the alto saxophone in high school, during which time he played with Kenny Drew, Jackie McLean, and Art Taylor. After graduating, he switched to the tenor, and soon was picking up professional gigs.
Sonny's first session was in January 1949 with vocalist Babs Gonzales and his orchestra; the date also had J.J. Johnson on it, with whom Sonny made his first combo recording as a sideman a few months later in May. Sonny instantly became a member of the jazz elite, recording with the biggest names on the scene like Kenny Dorham, Bud Powell, and Roy Haynes all within his first year. In the first years of the 1950s, he joined groups led by Tadd Dameron and Miles Davis; shortly thereafter, in January 1951, he had his first session as a leader (backed by Miles Davis on piano).
Sonny made a major move in 1956 when he joined the Max Roach-Clifford Brown quintet. He paired up with Max Roach following the death of Clifford Brown and released albums with Roach for Prestige, Blue Note, Riverside, and Contemporary. In the late 1950s, Sonny released seminal albums like "Saxophone Colossus" (with Tommy Flanagan), "Tenor Madness" (with John Coltrane), and "Way Out West;" these, along with collaborations with Sonny Clark, the Modern Jazz Quartet, and Clark Terry firmly established him as a jazz superstar.
He withdrew from the public eye between 1959 and 1961 to hone his craft, humbly noting that he felt he was "getting too much, too soon." He returned with "The Bridge," a collaboration with Jim Hall, in 1962; this release marked the beginning of his contract with RCA Records. The middle of the 1960s saw him collaborating with Don Cherry, Paul Bley, and his personal idol, Coleman Hawkins, but by the end, he left the business again for another sabbatical. He returned in the 1970s to sign with Milestone, a long association that yielded two dozen albums. By the 1980s, Sonny was producing his own material as well.
Sonny Rollins is the subject of the 1986 documentary Saxophone Colossus. He received his first Grammy award in 2000 for his album "This Is What I Do," another for his Best Solo Performance for his album "Without A Song: The 9/11 Concert" in 2006, and a Grammy award for lifetime achievement in 2004. He also holds an honorary Doctor of Music degree from the Julliard School. Find current news about Sonny Rollins at SonnyRollins.com.