Horror Show

– Ryan Kisor

Not a particularly creepy song, but definitely a workout! The melody presents a real challenge for any instrument.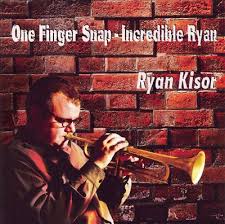 All selected items will be available for download after purchase.
Recording:

Ryan Kisor - One Finger Snap - Incredible Ryan

Recorded on:

July 21, 2006

Label:

Video Arts Music (VACM 1294)

Concert Key:

No key center

Vocal Range:

, to

Style:

Swing (uptempo)
Trumpet - Ryan Kisor
Piano - Peter Zak
Bass - John Webber
Drums - Joe Strasser
If you don't have your technical chops together this will definitely be a "horror show" for you if you try to play it at Ryan's tempo. Just listen to our audio excerpt! Like many of Ryan's compositions, this one can also become a valuable technique etude to practice.

The quickly-moving chords under the melody in the A section are doubled in time value for the solo changes (the C section), with one exception: there are still two measures of Amaj7 after the F♯m7, instead of having it stretched into four measures. The six measures of A(♭2) and six measures of A♭(♭2) are kept for the solos; on the head, this is not obvious because the Latin feel (the B section) begins on the second measure of A(♭2).

The A(♭2) and A♭(♭2) chords are basically the root, flat 2nd, and 5th. The melody in the measure before B spells out a chord structure that Ryan uses in his solo, with a major 3rd and flat 6th. He often also uses the minor 3rd or sharp 2nd. Pianist Peter Zak often adds the flat 5th (D) in his voicings for A♭(♭2).
In 2000, Ryan started recording albums as a leader for the Video Arts label (Japan) with the album "Kisor," which contained no Ryan originals, but is a beautiful tribute album to
Clifford Brown
; he recorded Clifford's two jazz standards
Daahoud
and
Sandu
. Fortunately, most of his recordings for Japan are now available as downloads in the US. He followed this album in 2001 with "Kisor II." After a couple more Criss Cross recordings (later in 2001 and 2002) he returned to Video Arts to record "The Sidewinder" (2003), "Donna Lee" (2004), and "This Is Ryan" (2005,) which leads up to our recording in 2006. We will be getting into the history behind these other recordings as we bring you more of Ryan's originals.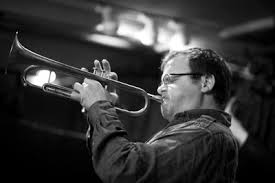 born on April 12, 1973
Perhaps best known for his work with the Jazz at Lincoln Center Orchestra, Ryan Kisor is an accomplished trumpeter and one of the rising names on the jazz scene. Firmly rooted in the post-bop tradition, Ryan has obviously done a lot of listening to giants like Clifford Brown and Booker Little and Woody Shaw. Of course, he's also been influenced by contemporary mentors including Clark Terry and Wynton Marsalis, both masters of the art of great trumpet playing. Read more...