Deception

– Ryan Kisor

Ryan Kisor's burning-tempo line over the standard Cherokee has an improvisational sound—and it's highly trumpet-istic. Like many Kisor compositions, it's a workout for any instrument.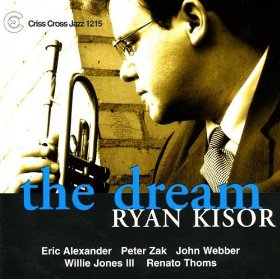 All selected items will be available for download after purchase.
Recording:

Ryan Kisor - The Dream

Recorded on:

May 28, 2001

Label:

Criss Cross Jazz (1215)

Concert Key:

B-flat

Vocal Range:

, to

Style:

Swing (uptempo)
Trumpet - Ryan Kisor
Piano - Peter Zak
Bass - John Webber
Drums - Willie Jones, III
Deception
(no relation to the song of the same title from Miles Davis' "Birth Of The Cool") is the kind of bebop or post-bop head over standard changes that has a naturally improvisational sound. In other words, this line essays the changes of
Cherokee
in a soloistic style, with the kind of diverse phrasing and irregular motivic development that makes it sound more like an improvised solo than a composed passage. (Compare Warne Marsh's
Marshmallow
for another
Cherokee
head that does this.)
The two A sections, labeled A and B on this lead sheet, have entirely different melodies; the "C section" (D) begins like A but switches to the same as B in the last six measures. Several tritone and similar substitutions are used, for example Bm7-E7-E♭maj7 starting in the third measure.
This melody is certainly "trumpet-istic." At several points in the A and B sections, there are passages with three repeated notes, D concert (E for B♭ trumpet). Ryan articulates them with the valves; the small number 3's on the B♭ lead sheet indicate the alternate fingering.
This recording showcases Ryan's playing with a cup mute, and Willie Jones' use of brushes. Check out other compositions from "
The Dream
."
This quartet previously recorded a version of
Cherokee
the previous year on Ryan's first album for the Video Arts label, simply titled "Kisor." Peter Zak and Willie Jones have recorded together on five Kisor albums, two trio albums led by Zak, and one by guitarist Tom Guarna.
For more from this album, check out
The Dream
and
Panic Attack
.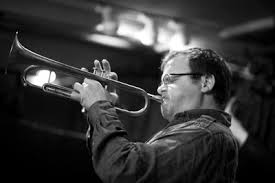 born on April 12, 1973
Perhaps best known for his work with the Jazz at Lincoln Center Orchestra, Ryan Kisor is an accomplished trumpeter and one of the rising names on the jazz scene. Firmly rooted in the post-bop tradition, Ryan has obviously done a lot of listening to giants like Clifford Brown and Booker Little and Woody Shaw. Of course, he's also been influenced by contemporary mentors including Clark Terry and Wynton Marsalis, both masters of the art of great trumpet playing. Read more...