Visitation

– Paul Chambers

Paul Chambers' classic line on the changes of All God's Chillun Got Rhythm. In addition to our lead sheet editions and transcription of Paul's solo, we have two separate Minus You versions available, both featuring young bass star Daryl Johns.
Recording:

Paul Chambers - Chambers' Music

Recorded on:

March 2, 1956

Label:

Blue Note (CDP7-84437)

Concert Key:

F

Vocal Range:

, to

Style:

Swing (medium)
Piano - Kenny Drew
Bass - Paul Chambers
Drums - Philly Joe Jones
Though conceived for the bass and is most commonly played as a bass feature, this line over the changes of the standard All God's Chillun Got Rhythm works just as well for any other melody instrument. It is a classic example of Paul Chambers' phrasing and melodic vocabulary in an easy going hard-bop style.

Our audio excerpt starts with the four-measure drum intro that sets up the melody. Paul plays the whole melody alone on bass, accompanied only by Philly Joe's brush work, which works great, but other instrumental artists have enjoyed doubling the melody in octaves with the bass.

The first measure of the B and D sections has often been misinterpreted with a couple of different notes, notably D instead of E on the "and" of the fourth beat; our lead sheet presents the melody as played by Chambers on the original recording. Paul's recording was on a small label, and therefore not widely distributed. Bassist Sam Jones was the next to record it, and he arranged Paul's melody differently in places. Paul's publisher for this composition was initially Horace Silver, and he gave us a copy of the manuscript that was filed for copyright in 1956. However, many times there's a difference between how a song is written down on paper and how it's actually played. That's what happened here.

A transcription of Chambers' bass solo is available; click on the Solos tab for more details.

Click on the other album covers for our two Minus You versions.
Paul Chambers' first album as a leader, "
Chambers' Music
" was recorded in Los Angeles, where Miles Davis' quintet with Chambers, John Coltrane (who is present on most of the "Chambers' Music" album),
Philly Joe Jones
and also Red Garland was visiting. The second part of the album title see on some releases (A Jazz Delegation From The East) refers to the fact that Chambers, Coltrane, Jones and
Kenny Drew
were all based on the East Coast.
The trio heard on this track recorded again in September of the same year on Drew's trio
album
for Riverside (check out
Weirdo
from this album), recorded at Rudy Van Gelder's studio in Hackensack, New Jersey. Drew, Chambers and Jones were also the rhythm section for three additional widely revered albums: Coltrane's "Blue Train" in 1957, and in 1961
Kenny Dorham
's "
Whistle Stop
" and
Dexter Gordon
's "Dexter Calling."
Paul Chambers' Transcribed Bass Solo Paul takes four choruses and is the only soloist. His solo is characteristically melodic, with notably horn-like phrasing. This solo is particularly significant as it is the earliest recording to feature Chambers both playing his own original melody and soloing in a trio setting. For more details about the transcription click on the Bass Corner tab.
Visitation is a fantastic bass feature, but you'd expect nothing less from Paul Chambers. Ranking at 6.5-7 out of 10 for difficulty, on this piece you'll be testing your dexterity, intonation and rhythmic prowess, but you'll definitely be having fun. To get this really under your fingers, break it up into sections and master each eight-bar phrase before trying to put the whole thing together and play it uptempo.

The solo transcription also includes the in and out heads. Check out the Miinus You version!

Notable fingerings have been added to provide clarity in regards to how to tackle this piece. When boldface letters D G A and E are seen under the fingering, this indicates that the notes over these letters are to be performed on that string.
Recording:

Don Sickler - Don Sickler Quartet featuring Daryl Johns

Recorded on:

January 31, 2010

Label:

jazzleadsheets.com (JLS 1001)

Concert Key:

F

Vocal Range:

, to

Style:

Swing (medium)
Trumpet - Don Sickler
Piano - Michael Cochrane
Bass - Daryl Johns
Guitar - Steve Johns
Recording:

Daryl Johns - Tribute to Paul Chambers

Recorded on:

May 29, 2010

Label:

jazzleadsheets.com (JLS 1002)

Concert Key:

F

Vocal Range:

, to

Style:

Swing (medium)
Multiple Basses - Daryl Johns
This arrangement for four basses by jazzleadsheets.com's
Don Sickler
is a new twist on Paul Chambers' original song. The melody, played in the first bass part, is punctuated by "hits" and harmonized melodic answering phrases in the other parts outlining the changes. In the C section the second part initially introduces the melody before playing it in octaves with the first part, then the fourth part doubles the first part an octave higher. The D section melody is played together by all four basses before moving into four-part harmony that sets up a solo break for the first soloist, or the climactic four-bass ending.
This track is also available in a
Minus You
setting—a unique opportunity to play along with multiple basses and to practice soloing over a walking bass. Click on the Minus You tab for details.
"Tribute To Paul Chambers"
was recorded at the legendary
Van Gelder Studio
in Englewood Cliffs.
Also from this
session
with Daryl Johns are
Ease It
and
Tempo Di Max
.
Don Sickler:
Daryl had recorded
Visitation
with me a few months before, when we played it at a faster medium swing tempo, almost the same tempo that Paul originally used. For the four basses arrangement, I wanted to create a different groove. As I started hearing three-bass answering figures for the spaces in the melody, I started feeling a slower tempo. An absolutely amazing thing about the then-thirteen-year-old Daryl was his ability to lock into a given tempo immediately. I'd just sing him the first three bars of the tempo I was hearing, and he'd immediately lock it right in. We never used a click track on any of these recordings. Playing with a click track wouldn't work with the ebb and flow necessary for this arrangement. All I needed to give Daryl was a "scratch track" part, and he'd lay down the whole initial track then build the arrangement around it, part by part.
Saxophonist Adam Kunsberg videotaped the
Tempo di Max
session at the Van Gelder Recording Studio—it's fun to see young Daryl doing the multiple overdubs on split screen.
A full score is available as well as the four parts.

You can have a lot of fun playing any of the parts along with Daryl on the recording. So far, we're only making the full audio track available. However, since these were recorded one track at a time, we could make Minus You Bass 2, Bass 3 and Bass 4 tracks available. Would you be interested? Give us some feedback.
You play the melody in octaves with the bass melody. The Minus You version has only walking bass for the solo section. This gives you great practice learning how to lock in with just walking bass accompaniment
CLIP
. This track, coupled with our Minus You
quartet track
, gives you two very different backgrounds for soloing exploration. They are also at different tempos. The quartet track is ♩ =
ca.
162, while Daryl's multiple bass track is ♩ =
ca.
136.
Here is the format:
-- count off (2 measures)
-- melody—play in unison with bass(es)
-- break (2 measures) into 2 choruses of solo accompanied by walking bass
-- out melody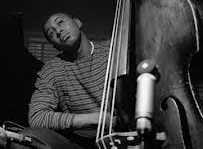 April 22, 1935 – January 4, 1969
Bassist Paul Chambers was a leading rhythmic force in the 1950s and 1960s. He became one of the signature bassists in jazz history. Born in Pittsburgh but raised in Detroit, Chambers initially took up the baritone horn as a child. He followed suit with the tuba and didn't become interested in the string bass until 1949. Listening to Charlie Parker and Bud Powell and studying under a bassist of the Detroit Symphony Orchestra, Chambers began making headway in small bars of Hastings Street area and doing club jobs with Kenny Burrell, Thad Jones and Barry Harris. He did classical work in a group called the Detroit String Band, a rehearsal symphony orchestra. Read more...