Plain But The Simple Truth

– Eli "Lucky" Thompson

After a dramatic introduction, a playful tutti melody (with bass). Our lead sheet editions cover both Lucky Thompson's original trio recording (tenor sax, bass, guitar) and our standard quartet instrumentation recording. We also have Minus You tracks for all instruments available from the quartet recording.
All selected items will be available for download after purchase.
Recording:

Lucky Thompson - Featuring Oscar Pettiford, Vol. 2

Recorded on:

December 11, 1956

Label:

ABC-Paramount (ABC 171)

Concert Key:

B-flat

Vocal Range:

, to

Style:

Swing (medium)
Tenor Sax - Lucky Thompson
Bass - Oscar Pettiford
Guitar - Skeeter Best
Our audio excerpt starts with the introduction, and you immediately hear that the original recording is only played by tenor sax, bass and guitar. Our C treble clef edition has the melody written an octave higher than it sounds on the recording, so is serves as a perfect cued tenor sax melody part if the guitarist wants to just comp as on the original recording. The guitarist or any other C instrumentalist also has the melody to play themselves and can feature themselves on our MP3 minus melody track: click on the second album cover above to see more details about the Minus You editions.

The tenor sax lead sheet comes from Lucky Thompson's original recording and has his articulation and melody interpretations, while the other melody parts are as recorded on the jazzleadsheets.com quartet recording.


Composer/tenor saxophonist Lucky Thompson wrote this composition and several others as features for bassist Oscar Pettiford and himself. Pettiford was one of the most recorded and celebrated bassists of his time; he and Lucky had been on recording sessions together since the mid-1940s. On jazzleadsheets.com you can first find them together on
Salute to Charlie Parker
(1954).
In 1956, Lucky got his own leader date for ABC-Paramount. His first session (January 24, 1956) featured the same trio on four selections and was released under the title "
Featuring Oscar Pettiford
," but called Volume 1. The December 11 session started
Volume 2
. Of the four compositions recorded on that session,
The Plain But The Simple Truth
is one of three Thompson compositions that feature Lucky and Oscar playing the melody. Another very interesting fact about December 11 is that Lucky also recorded six tracks that day on a Louis Armstrong session with the Sy Oliver Orchestra.
Bassist
Martin Wind
and saxophonist
Scott Hamilton
have also released their own versions.
Links to more information on Lucky: an
article
by Noal Cohen and Chris Byars, and Noal Cohen's
Lucky Thompson Discography
.
Transcribed Tenor Sax Solo:
Our audio clip
clip
starts with the last two measures of the tenor sax/bass melody. Lucky defines the totally "major" concept of his solo section by immediately starting on the major 7th of the tonic chord to which he keeps returning, rather than playing the minor 7th (the dominant 7th sound that is associated with most blues). Lucky takes a six chorus solo and returns for two more solo choruses before the out melody, making a three-page transcription..
Both B-flat and C treble clef editions of this great Lucky Thompson solo are available, showing his articulation. He has great tongue control which gives him the ability to articulate many of the notes in his intricate lines.
Bass melody LEVEL 3 (Oscar Pettiford, bassist)
This composition comes from a very important recording of the great Lucky Thompson playing tenor sax in a trio with Oscar Pettiford on bass and Skeeter Best on guitar. This particular tune is a great blues head in B-flat, but it's a definite challenge for a bassist.

After the introduction, the bass plays the melody along with the tenor sax. Practicing along with the original track is a great way to work on this one.
All selected items will be available for download after purchase.
Recording:

Don Sickler - Don Sickler Quartet featuring Daryl Johns

Recorded on:

January 31, 2010

Label:

jazzleadsheets.com (JLS 1001)

Concert Key:

B-flat

Vocal Range:

, to

Style:

Swing (medium)
Flugelhorn - Don Sickler
Piano - Michael Cochrane
Bass - Daryl Johns
Drums - Steve Johns
The audio excerpt of our quartet version starts with the introduction which sets up the flugelhorn and bass playing the melody together. The B-flat Trumpet and Piano editions come from this recording. The B-flat Tenor Sax edition, which is from Lucky Thompson's original recording with Oscar Pettiford (see first album cover), also works with our Minus You audio tracks.

"Don Sickler Quartet Featuring Daryl Johns"
was recorded at the legendary
Van Gelder Studio
in Englewood Cliffs.
On January 31, 2010, jazzleadsheets.com started recording
The Lucky Thompson Project
at Rudy Van Gelder's Englewood Cliffs studio. In the previous October, the 2009 Thelonious Monk International Bass Competition had introduced Don Sickler to a remarkable young bassist, thirteen-year-old semifinalist Daryl Johns.
Don said: "From the very first notes I heard him play, I knew Daryl was someone special. At the party at the end of that competition, I told Daryl and his parents to look for a call from me soon, that I was going to go home and figure out a project for Daryl. Lucky Thompson's Oscar Pettiford project was one of the first things I came up with. I knew this would be a real test for a thirteen-year-old. I put the music together, called Daryl's father, drummer Steve Johns, and their good friend and mine, pianist
Michael Cochrane
, and we decided on a rehearsal day. The rehearsal with Daryl absolutely knocked me out! Three months later, we recorded our quartet versions of four of Lucky's compositions that had originally also featured bassist Oscar Pettiford."
Several other titles were recorded on this
session
.
Bass melody LEVEL 3 (Daryl Johns, bassist)
This second arrangement is from Don Sickler's quartet featuring the great young bassist Daryl Johns. The tempo is pretty much the same as the original recording, but it's always nice to have an alternate version to practice along with. The added perk here is that we've created a Minus You track without the bass, so you can practice along with the trumpet, piano, and drums. YOU are the only bassist.

Bassist Dave Robaire can be seen playing along with the Quartet track, the Minus Bass version, trying to lock in with the melody and soloing.

Check out the video of saxophonist Elijah Shiffer using the Minus You track: he's the only melody instrument, and he has the solo section all to himself.
Don Sickler: "Some of our recordings are specifically designed to be Minus You tracks. However, the first tracks we made available were not designed that way. They were from a normal recording session without special attention paid to "minus melody" solo format. At first, I thought only parts of these tracks would be suitable for a minus melody track, because there was a piano solo and a bass solo on the original track. Once I thought about it a little more, knowing I sometimes like soloing without any chordal accompaniment under me, we tried muting out the piano solo. Just having the bass and drum track was equally fun to solo over. What about the bass solo? Muting the bass solo would just give me the piano and drum track as accompaniment. I tried it, and I liked it as a practice tool, both because there was no bass, and also because the piano and drums softened down for the bass solo. It made me react and think quite differently."
minus you:
Our quartet "Lucky Thompson Project" recording
clip
is also available as MP3s minus each recorded instrument. Here's the recording format: [number of choruses]
-- intro
-- melody [2 choruses]
-- instrumental solo [4 choruses](flugelhorn on recording)
-- piano solo [4 choruses]
-- bass solo [3 choruses]
-- fours [4 choruses] -instrumental soloist exchanges with drums
-- out melody [2 choruses]
-- coda Each edition comes with the [minus you] format on page two. See below for details.
MP3 minus melody practice editionmelody
(this track works for any solo instrument) [minus you] for the entire original track (check out our video of alto saxophonist Elijah Shiffer playing with the whole track)
-- count off sets up the solo bass pickups for the intro
-- the melody is a feature for instrumentalist and bass playing the melody together
-- melody instrument solo:
4 choruses with full rhythm section
4 choruses with only bass and drums
3 choruses with only piano and drums
then start 4 choruses of fours with drums when the rhythm section re-enters
-- out melody featuring you and bass going to the coda
performance edition:
solo 4 choruses, then 4s with drums
MP3 minus Piano
(there is a separate Piano part edition):
-- count off sets up the solo bass intro pickups
-- comp for the intro and melody
piano
and flugelhorn solo
-- take a solo (accompanied by bass and drums) 4 choruses
-- comp for the bass solo
-- comp for fours between flugelhorn and drums
-- comp the out melody and coda
MP3 minus Bass bass
(there is a separate Bass part edition):
-- count off sets up the intro, which starts with bass pickups
-- melody: duo featuring bass and flugelhorn
-- walk for flugel and piano solos
-- take a solo (with piano and drums accompaniment) 3 choruses
-- start walking for fours (flugelhorn and drums)
-- out melody (play melody with flugelhorn) then coda
MP3 minus Drums
Mallets were used on the original recording for the intro and coda. The rest of the original recording was all brushes. You can also obviously try it with sticks, or switching from brushes to sticks, etc. You may prefer to get the Piano edition as your part, but any other edition could also be used.
-- count off sets up the solo bass intro pickups
-- comp for the intro and melody
-- comp for flugelhorn
drums
, piano and bass solos
-- trade fours with the flugelhorn for 4 choruses (finger snaps have been added on "2 and 4" for the drum solo sections)
-- comp the out melody and coda.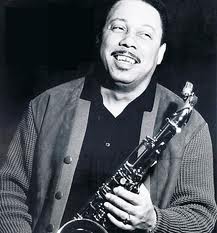 June 16, 1923 – July 30, 2005
Saxophonist Lucky Thompson is one of the great treasures of jazz. He was born in Columbia, South Carolina, but was raised in Detroit, Michigan. He played in local groups with Hank Jones, Sonny Stitt and others. In August, 1943, when he was 19, he left Detroit with Lionel Hampton's Orchestra, eventually arriving in New York City. Still a teenager, his first recording date was with Hot Lips Page on March 18, 1944. Later in 1944 he started recording with both Lucky Millinder and Count Basie. Read more...