Tempo di Max

– Don Sickler

Rhythm changes, at a Max Roach tempo: fast! Check out the video of a young Daryl Johns recording the five-bass arrangement.
Lead sheets, full track, Minus You practice track without the melody plus solo piano arrangement.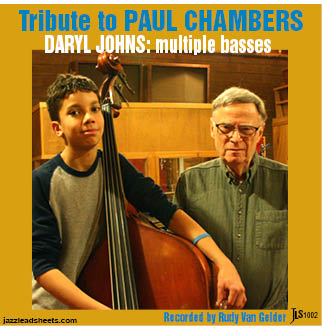 All selected items will be available for download after purchase.
Recording:

Daryl Johns - Tribute to Paul Chambers

Recorded on:

July 2, 2010

Label:

jazzleadsheets.com (JLS 1002)

Concert Key:

E-flat

Vocal Range:

, to

Style:

Swing (uptempo)
Multiple Basses - Daryl Johns
As you can read in the Historical Notes, there was a particular reason for writing this composition: a "rhythm changes" head in E-flat, which was conceived originally to be played at a "Max Roach tempo," meaning, as fast as possible.

As recorded, it features the melody played on bass. However, anyone can play the melody from our regular lead sheet editions. It is actually effective at any tempo, so if you're just getting your "rhythm changes" soloing chops together, you can play it as slow as necessary to start with.

There is a separate bass rhythm section part, so this piece can be played by any quartet.
In a normal combo setting with regular rhythm section, we recommend the C-treble clef lead sheet for Piano and Drums.

Short melody notes work great for bass or piano or guitar, but for the horn editions, we've changed some of the articulation. An Arrangement for Solo Piano is also available (see the Piano Corner tab), plus a separate bass rhythm section part, so this piece can be played by any quartet. The Bass (melody) part is the the Minus You part for Bass.
Composer/arranger Don Sickler: "This was recorded by bassist Daryl Johns on the last day of the jazzleadsheets.com 'Tribute to Paul Chambers' project, a multiple basses-only project. We were determined to finish it while Daryl was still thirteen years old. This last day of the project was also the last day Daryl was thirteen!
"
Paul Chambers
didn't write any uptempo original compositions, but I knew Paul loved to play "rhythm changes." Since our project didn't include any arrangements in E-flat, I suggested that Daryl write an original 'rhythm in E-flat' head for the project. Daryl had earlier written a blues, which he titled
Blues For P.C.
Since I was making all of the multi-bass arrangements, I kept on Daryl's case about writing a rhythm section head.
"After a couple of weeks of phone conversations, Daryl said he couldn't come up with anything, so he turned it over to me at the last minute. Once I got it started, I also came up with the title. I remember calling Daryl the day before this last session, telling him I'd have parts for him to read at the session (Daryl is a fantastic reader, so I knew he would easily read the parts.) I told Daryl the title, then asked him if he knew what a 'Max Roach tempo' was. Daryl said, 'No.' My explanation: 'FAST rhythm in E-flat.'
"This was the eleventh multi-bass arrangement of the project, so Daryl had the recording process down. I'm pretty sure he finished recording all five bass tracks in around 45 minutes. In a stroke of exceptional good luck, our summer intern, Adam Kunsberg, had asked if he could set up a couple of cameras and video the recording of this piece. Adam then created the video, which is almost as amazing as the performance."
Check out Paul's
Ease It
, one of the other titles Daryl recorded on this "
Tribute To Paul Chambers
" jazzleadsheets.com project.
Arrangement for Solo Piano: Don Sickler: "I write basically simple piano arrangements, arrangements that I hope I (as a non-pianist) could play, if I worked on them. If the tempo heading of this arrangement is adhered to (Uptempo Swing—ultimate goal, as fast as possible, 'Max Roach tempo'), then this arrangement is certainly not easy. However, I feel this arrangement is a great learning tool at slower tempos. And at a slow tempo, this is an easy piano arrangement. Once you've learned it that way, you can check your piano progress by periodically trying it at a faster tempo."

To find other easy piano arrangements, type EASY PIANO in the SEARCH box in the top right corner of any page on this site.
Bass Melodies (Daryl Johns, bassist)
It's not often that an entire song is written around the bass. Even less frequent are occasions when the entire song is complete with that one instrument—basses are the whole band, covering lead and rhythm parts. Tempo di Max accomplishes that and much more. It's an E♭ rhythm changes composition, complete with melody and accompaniment. Bassists can take part in playing ensemble hits, an activity more commonly reserved for other ensemble members. In addition, Tempo di Max provides an alternate to the innumerable wonderful yet busy and arduous rhythm heads out there, for there only are four different written pitches throughout the melody! The B section opens up for blowing, so the number of different notes used there is totally up to you!

By writing a supportive double stop accompaniment, Sickler provides added harmonic information without overwhelming the listener and filling up all of the space. The accompaniment helps frame the song plus it's enjoyable for players to sit back and groove on. The texture provided by this regiment of basses is startling yet soothing; not every listener is used to encountering such an instrumentation! We hope to see this unfortunate lack of awareness altered, in the same way players improvise and add their own harmonic variations each time they perform a rhythm changes tune.

For the A and C sections, the player should play the written melody line. At B, there are three options: solo on the changes, play the optional part of cued rhythmic hits, or walk time underneath. At the solo section of D-F, the player should either solo over the changes or walk and try to lock in their time with Daryl's. For G and I, again stay with the written melodic line. H should be the same three options: solo over the changes, play the optional rhythmic hits, or walk time underneath. At J-L, the same three options are open.

Please Note: While originally Daryl Johns overdubbed each part, for a fun challenge we recommend trying the entire arrangement on solo bass (the notation for the hits is also marked on the Solo Bass Melody part listed here under EXTRAS). Yes, a rapid ability to shift and an awareness of double stops is required, but these skills are simple to address, no matter what level of player. Maybe you could be the first one to do it!

If you are up for the challenge, please email us a video of you performing the whole arrangement and we'd be honored to feature it on our website!
We've created a Minus You track (one mp3 edition), so everyone can now take a shot at getting their fast "rhythm changes" chops together. The tempo is a quarter note at ca. 350.

Here's a chance for you to see if you can survive soloing on "rhythm changes" at a fast clip. It's also a great workout for any soloist to get their act together with just walking bass accompaniment.

The original recording, created with multi-track overdubs, starts with four bass tracks, then adds a fifth bass track for the last chorus before the return of the opening melody. Our Minus You track removes the bass in the melody sections and has only one walking bass for the open one-chorus solo before the second melody section.

There are two different melody choruses. Each chorus has a different A section melody. You always solo over the bridges, where there are multiple bass accompaniment figures over walking bass. You have a solo chorus before the new second melody chorus. After the second melody chorus, you take another solo chorus, starting over multi-bass 2-beat figures which move into walking bass (A sections), and a walking bass bridge with a multi-bass background line. Then it's back to the melody (D.C. al fine).

Here's the basic format for everyone:
-- 1st melody (solo over the bridge)
-- 1 solo chorus
-- second melody (solo over the bridge)
-- 1 more solo chorus (2-beat multi-bass figures for first 4 measures of each A section)
-- 1st melody (D.C.) then take last time ending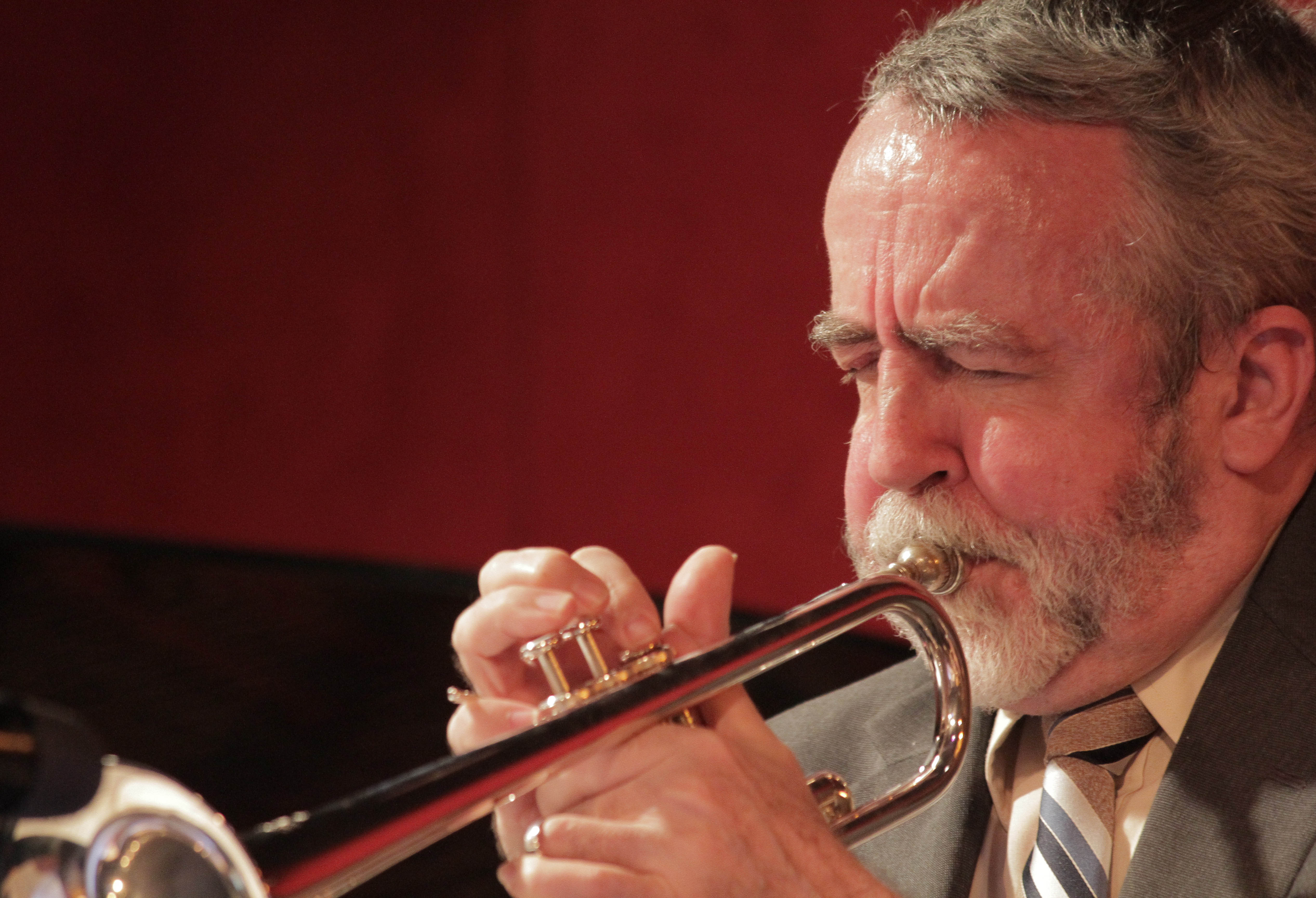 born on January 6, 1944
Don Sickler, founder of jazzleadsheets.com, was born on January 6, 1944, in Spokane, Washington. Don took up the trumpet at the age of ten and two years later formed his own jazz combo. Don received his Bachelor's Degree from Gonzaga University, then decided to further his career and studies in New York City at the Manhattan School of Music, where he received his Master's Degree in Trumpet Performance in 1970. During this time, he also played commercially, subbing on Broadway and playing in show bands and commercial jobs. Read more...