Weirdo

– Kenny Drew, Sr.

Despite the title, this classic uptempo hard bop song is not particularly weird. The solo form, however, is quite different from that of the head. Kenny Drew's piano melody and solo transcriptions are available.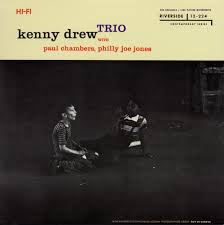 All selected items will be available for download after purchase.
Recording:

Kenny Drew - Kenny Drew Trio

Recorded on:

September 20, 1956

Label:

Riverside (RLP 12-224)

Concert Key:

C minor

Vocal Range:

, to

Style:

Swing (uptempo)
Piano - Kenny Drew
Bass - Paul Chambers
Drums - Philly Joe Jones
It's not easy to tell where the name comes from, as this is a relatively straightforward hard bop head with some hits and a 12-measure bridge that is open for the soloist. The changes go to a few keys outside C minor (D, C, B♭, and A♭ major)—not particularly far away. One thing that does make this song different, though, is the solo section. After a pedal point interlude, the solos are over a different form. These solo changes are very similar to Sonny Rollins'
Airegin
in a different key, but instead of II-Vs going down in half steps in two-measure phrases to make a 12-measure section after the first eight, these II-Vs descend from a different place in whole steps in four-measure phrases (as in the head) to make a 16-measure section.
Another possibility for the title's origin is
Philly Joe Jones'
rhythms on the first three measures of the A and C sections of the head: a Latin groove in quarter-note triplets, essentially a half-time 12/8 feel. This does not line up easily with the melody and bass figures, and is not notated in the lead sheet. Philly Joe catches the hits at the end of the third measure and leaves the fourth measure as a break.
Weirdo
is not the same song as
Weird-O
, a
Hank Mobley
composition recorded four months before this session by Art Blakey's Messengers. This trio album was Kenny's fourth as a leader. Kenny,
Paul Chambers
and
Philly Joe
had previously recorded together in March 1956 on "
Chambers' Music
," Paul's first album as a leader which also featured saxophonist John Coltrane. Almost a year after the trio date, on September 15, 1957, the same players from the Chambers album were joined by trumpeter Lee Morgan and trombonist
Curtis Fuller
for Coltrane's classic "Blue Train" album. The trio reunited for two more Blue Note albums, also both classics, in 1961:
Kenny Dorham's
"
Whistle Stop
" in January (with
Hank Mobley
), and
Dexter Gordon's
"Dexter Calling" in May.
Kenny Drew's
Weirdo
was recorded again four years later, on tenor saxophonist Charlie Rouse's first album as a leader, "Takin' Care Of Business." This version is faster, with no interlude and with the solos on the same form as the head.
Kenny Drew Transcribed Piano Solo
This is the first Kenny Drew solo we're making available on jazzleadsheets.com. Here is a real opportunity to get acquainted with his subtly distinctive style. His two choruses are entirely a melodic solo
clip
; the left hand is nearly silent throughout the first chorus. The second chorus' left-hand comping is limited to single or double notes, with very few three-note chords.
Kenny's melodic lines have a unique flowing quality, but also a bounce that fits perfectly in the groove. Small accent marks in this transcription indicate the phrasing that produces the bouncing quality.
Check out the Piano Corner tab for Drew's piano melody transcription.
Piano Melody Transcription The Piano Melody Transcription shows not only Kenny's interpretation of the melody (with his full voicings written out) but also his improvisation over the bridge on the in head. He plays the first four measures in octaves, with hits in the left hand, and voices the hits on the next four. The interlude (the D section) is voiced very simply, but in the left hand he anticipates the G pedal on two and four with G an octave up, an eighth note earlier. This gives the interlude rhythmic motion that propels the soloist into the break and beyond.

Piano Solo Transcription: Click on the Solos tab for information about his transctibed solo.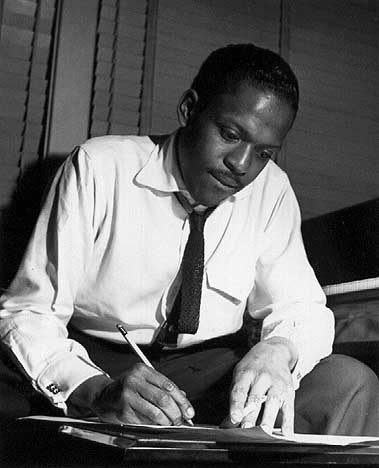 August 28, 1928 – August 4, 1993
Kenny Drew was born in New York City. He studied classical piano but soon turned to jazz. His recording career started in 1950 at age 22, first with Howard McGhee for Blue Note, then Sonny Stitt for Prestige. These two 1950 recordings plus a surviving radio broadcast with Charlie Parker (December 8, 1950) put him in the company of jazz greats J.J Johnson, Max Roach and Art Blakey. Read more...