Down Home

– Curtis Fuller

A simple, gospel-infused medium swinger that really grooves! Lead sheets as well as recorded Quintet and Sextet arrangements are available plus a transcription of pianist Richard Wyands' melody interpretation (melody transcription) from Roy Haynes' trio recording.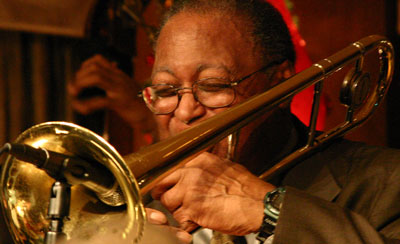 December 15, 1934 – May 8, 2021
After J.J. Johnson, Curtis Fuller is likely the most influential modern jazz trombonist. Born in Detroit and raised in an orphanage, he was a relatively late starter: he did not take up the trombone until age 16. But it was not long until he was cutting his teeth with saxophonists in the area like Pepper Adams and Yusef Lateef and guitarist Kenny Burrell, eventually building up his skills enough to move to New York in 1957. Curtis' first recording session, however, was in the previous year, with Pepper and also Detroit's Paul Chambers. This was also Curtis' first session with John Coltrane and Philly Joe Jones (check out High Step). Read more...