Rahsaan Roland Kirk
August 7, 1935 – December 15, 1977
| | |
| --- | --- |
| Instrument | tenor sax, reeds |
| Birthplace | Columbus, OH |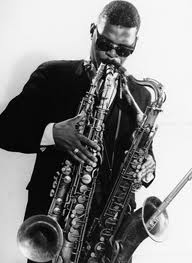 With a stritch dangling below his knees, manzello and tenor sax hanging from his neck and a hodgepodge of various homemade instruments, Roland Kirk was a surreal, innovative and inspiring saxophonist who was intensely serious about music. Born in Columbus, Ohio, he became blind at an early age. Taking up an assortment of instruments early on, he began playing tenor sax professionally in R&B bands by the age of 15. Infatuated by the manzello (saxello soprano) and stritch (straight alto saxophone), he reshaped the saxes so he could play all three simultaneously, evident in his first recording in 1956, "Triple Threat." By 1960 he had incorporated the siren whistle into his solos, and by 1963 had mastered circular breathing. Even while playing two or three saxophones at once, Kirk's music was powerful jazz with a strong feel for the blues.
Although he preferred the leader's role, he did play with Quincy Jones, Roy Haynes and Charles Mingus as a sideman, recording a memorable lead flute solo on Jones' "Soul Bossa Nova." After touring Germany in 1961 with Mingus, he mainly led his own group, the Vibration Society. He became something of an activist leading the "Jazz and People's Movement" which was devoted to opening new opportunities for jazz musicians. He also played great clarinet and invented a few exotic instruments, including the Rokon, and was an avid collector of instruments. In 1975 he suffered a paralyzing stroke, but with his inventive saxophone techniques he continued to play one-handed until his death in 1977.
J.E. Berendt said that Kirk had "all the wild untutored quality of a street musician coupled with the subtlety of a modern jazz musician," and Michael Ullman wrote: "Hearing him, one can almost feel that music, like the Lord in 'Shine On Me,' can 'heal the sick and raise the dead'."