Three For The Festival

– Rahsaan Roland Kirk

Rahsaan Roland Kirk is a master of writing simple but profound melodies. Charli Persip drum transcription also available.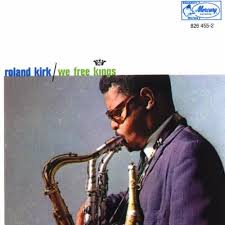 All selected items will be available for download after purchase.
Recording:

Roland Kirk - We Free Kings

Recorded on:

August 17, 1961

Label:

Mercury (MG 20679)

Concert Key:

G minor

Vocal Range:

, to

Style:

Swing (medium up)
Tenor Sax, Manzello, Stritch, Flute - Rahsaan Roland Kirk
Piano - Hank Jones
Bass - Wendell Marshall
Drums - Charli Persip
It's true (and amazing) that this three-horn arrangement was originally recorded by one man (Rahsaan Roland Kirk) playing three horns simultaneously. However, you can use three horn players as
Steve Turre
did.
Lester Bowie
even used more horns. The number of horns really doesn't matter, as long as your group can create three-part harmony—a piano alone could cover it. Rahsaan's arrangement is one of those simple yet profound masterpieces that can be played by any group. It's even a perfect learning tool for young players. We're providing 1st part, 2nd part and 3rd part editions. It is also a great feature for your drummer (see the Drum Corner for notes on the
Charli Persip
drum transcription).
Rahsaan Roland Kirk had recorded three previous albums: his first on November 9, 1956; then one on June 7, 1960; and the third on July 11, 1961, just a little over a month before our recording. The July recording was his first for Mercury Records. Shortly after its release, Joel Dorn (later to become Rahsaan's producer for Atlantic Records), a disc jockey for WHAT, a 24-hour jazz radio station in Philadelphia, had time to play one short cut before the news. By chance he picked a new single supplied to the radio station,
Three For The Festival
, and was thus introduced to the amazing Roland Kirk. "I thought, 'Wow!' This is wild!' Then a minute later the phone lit up!" Dorn is quoted as saying. The following year, Rahsaan played the Newport Jazz Festival and opened his set with
Three For The Festival.
It was one of his most popular numbers. The following year (1963) he was filmed performing it on his "Live In Holland - 1963"
Jazz Icons DVD
.
See all titles available from the "
We Free Kings
" album.
Drum Transcription:
A four-page drum transcription of Charli Persip's playing alongside Rahsaan Roland Kirk.
-- horn melodies are shown above the drum staff
-- AAB melody, drums fill throughout melody hits
-- Charli's playing through the first chorus of Rahsaan's flute solo
clip
-- stop-time hits
-- out melody and ending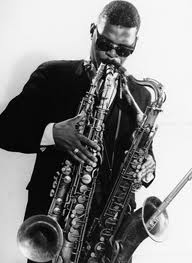 August 7, 1935 – December 15, 1977
With a stritch dangling below his knees, manzello and tenor sax hanging from his neck and a hodgepodge of various homemade instruments, Roland Kirk was a surreal, innovative and inspiring saxophonist who was intensely serious about music. Born in Columbus, Ohio, he became blind at an early age. Taking up an assortment of instruments early on, he began playing tenor sax professionally in R&B bands by the age of 15. Infatuated by the manzello (saxello soprano) and stritch (straight alto saxophone), he reshaped the saxes so he could play all three simultaneously, evident in his first recording in 1956, "Triple Threat." By 1960 he had incorporated the siren whistle into his solos, and by 1963 had mastered circular breathing. Even while playing two or three saxophones at once, Kirk's music was powerful jazz with a strong feel for the blues. Read more...