Laugh For Rory

– Rahsaan Roland Kirk

This simple modal song is classic Rahsaan. The melody is in two-part harmony throughout; first and second parts are available.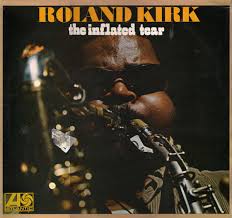 All selected items will be available for download after purchase.
Recording:

Rahsaan Roland Kirk - The Inflated Tear

Recorded on:

November 30, 1967

Label:

Atlantic (SD 1502)

Concert Key:

No key center

Vocal Range:

, to

Style:

Swing (medium up)
Flute, Siren - Rahsaan Roland Kirk
Piano - Ron Burton
Bass - Steve Novosel
Drums - Jimmy Hopps
A simple, light-hearted song with a 24-measure modal form. The melody for the first sixteen measures is played by the flute and piano harmonized in thirds, accompanied only by walking bass and ride cymbal. The C section begins with a break, with an ascending staccato line in the flute and piano harmonized in seconds. The rest of this section is a series of rhythm section hits, punctuated by two isolated high melody notes. In the solos, F (the C section) is an eight-measure break; on the recording the hits from the head are occasionally played on the hi-hat in this break.

This can be a fun quintet piece to play in a variety of instrumental settings, so check out our other 2nd part editions.
This song was named for Rahsaan's son Rory, whose voice can be heard at the beginning of the track saying something not entirely intelligible, but possibly "Love you, Daddy."
"The Inflated Tear" was Rahsaan's first studio album for Atlantic Records. This lineup was his working quartet at the time. For the anniversary of this album in November, we will be releasing editions of Rahsaan's classic composition
The Inflated Tear.
Rahsaan heard the melody of
A Laugh For Rory
arranged for flute and piano in harmony rather than himself playing it on two saxophones. His other, high-register simultaneous doubling, the flute and nose-flute, would have been too difficult to control. However, there is a video in which he briefly manages to play flute and manzello (soprano sax) at the same time! It is available
here
.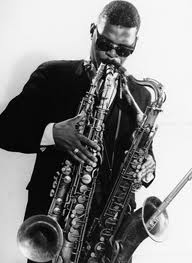 August 7, 1935 – December 15, 1977
With a stritch dangling below his knees, manzello and tenor sax hanging from his neck and a hodgepodge of various homemade instruments, Roland Kirk was a surreal, innovative and inspiring saxophonist who was intensely serious about music. Born in Columbus, Ohio, he became blind at an early age. Taking up an assortment of instruments early on, he began playing tenor sax professionally in R&B bands by the age of 15. Infatuated by the manzello (saxello soprano) and stritch (straight alto saxophone), he reshaped the saxes so he could play all three simultaneously, evident in his first recording in 1956, "Triple Threat." By 1960 he had incorporated the siren whistle into his solos, and by 1963 had mastered circular breathing. Even while playing two or three saxophones at once, Kirk's music was powerful jazz with a strong feel for the blues. Read more...