Get In The Basement

– Rahsaan Roland Kirk

This medium up swing featured the bass on the melody in the original piano-less arrangement. Bass part available.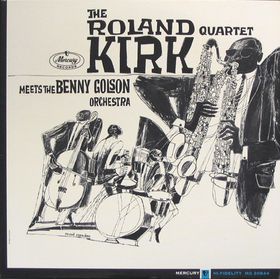 All selected items will be available for download after purchase.
Recording:

Roland Kirk - Quartet Meets The Benny Golson Orchestra

Recorded on:

June 12, 1963

Label:

Mercury (MG 20844)

Concert Key:

F

Vocal Range:

, to

Style:

Swing (medium up)
Tenor Sax - Rahsaan Roland Kirk
Bass - Abdullah Rafik
Drums - Gerald Sonny Brown
As you'll hear from our audio excerpt, this composition features the bass, first playing the melody with Rahsaan, then alternating the melody with him. The recording is a piano-less trio of tenor sax, bass and drums. A piano can certainly be added or even replace the horn.
Although the album is called "
The Roland Kirk Quartet Meets The Benny Golson Orchestra
," this track is performed by a trio.
This recording features Rahsaan on tenor sax, which he always said was his main instrument. Rahsaan would have a pianist or organist on his recording sessions, but he had the pianist sit this one out. In a piano-less trio, accompanied by bass and drums, a horn player has a freer environment in which to be inventive rhythmically as well as harmonically.
Bass Melodies (Abdullah Rafik, bassist)
This is a cute, warm paring of a deep, full and resonant tenor sax with a sure, pointed and resolute bass. The melody line is rather simple, consisting of only quarter notes and eighth notes. Yet as the proverb goes, "Timing is everything" and this song is all about where and when these notes are placed. Working on this melody will open up one's concept of taking simple rhythmic values and turning them into effective and succinct declarations. The first two bars of this song provide an exemplary example; this successive figure of three eighth notes happens three times in a row, followed by a fourth and final expression of an eighth and a quarter. This intentional repetition works fabulously because the listeners can relate to it and follow along, yet it surprises by retaining the length of one and half beats but varying it by having the quarter note in the place that we expected to hear two subdivided eighths. This subtle element of surprise helps the music.

In addition, an important element of this song is call and response, for the bassist has to "Answer" the "Question" presented by the saxophonist. Doing this will help develop the musician's sense of radar, a highly necessary skill for all musicians, but especially so in improvised music and jazz in particular. By learning how to answer a phrase, the player will start hearing their own counter melodies that will enhance their overall ability to accompany, especially in the irrepressible "2" feel that we all encounter.

Bassists like Paul Chambers and Ron Carter gained tremendous knowledge through partaking in classical music ensembles, where often the bass section of the orchestra plays a figure that is in direct response to what the lead voices had previously stated. These masters intelligently brought this knowledge of counterpoint (defined as the art of combined different melodic lines in a musical composition) to their jazz playing and set new standards of rhythm section performance. With Get In The Bassment, jazz musicians can enhance their familiarity with this valuable disciple and subsequently improve their overall musicianship, aiding them in whatever melodious situations they encounter.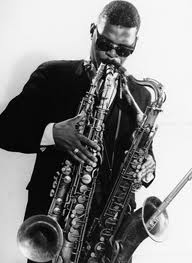 August 7, 1935 – December 15, 1977
With a stritch dangling below his knees, manzello and tenor sax hanging from his neck and a hodgepodge of various homemade instruments, Roland Kirk was a surreal, innovative and inspiring saxophonist who was intensely serious about music. Born in Columbus, Ohio, he became blind at an early age. Taking up an assortment of instruments early on, he began playing tenor sax professionally in R&B bands by the age of 15. Infatuated by the manzello (saxello soprano) and stritch (straight alto saxophone), he reshaped the saxes so he could play all three simultaneously, evident in his first recording in 1956, "Triple Threat." By 1960 he had incorporated the siren whistle into his solos, and by 1963 had mastered circular breathing. Even while playing two or three saxophones at once, Kirk's music was powerful jazz with a strong feel for the blues. Read more...