Between The 4th And 5th Step

– Rahsaan Roland Kirk

A unique piece composed of three contrasting sections—great for players of all ages! Lead sheets, second and third parts available.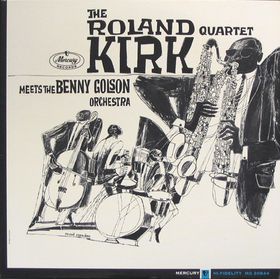 All selected items will be available for download after purchase.
Recording:

Roland Kirk - Quartet Meets The Benny Golson Orchestra

Recorded on:

June 12, 1963

Label:

Mercury (MG 20844)

Concert Key:

D minor

Vocal Range:

, to

Style:

Even 8ths (medium up)
Tenor Sax, Flute, Manzello, Stritch - Rahsaan Roland Kirk
Piano - Harold Mabern
Bass - Abdullah Rafik
Drums - Gerald Sonny Brown
Our audio excerpt starts with the melody at the beginning of the track. First is the fanfare-like call and response between Rahsaan's unique three-part harmony (generated totally by himself), and the rhythm section (piano voicings are indicated in the C treble clef lead sheet). The middle section of the composition is in 5/8, and its melody is played by the piano on the recording (but indicated in all parts).

Don Sickler writes: "I've always been fascinated by Rahsaan's profound choice of notes and simple rhythms when creating his three-part three-horn harmonies. Some choices are obviously dictated by the limitations of playing three horns at once.

"Rahsaan used to come over to my place in the 1970s, on 44th Street in New York City, and we talked about how valuable understanding his three-part writing style would be for young players, educationally. We're providing separate editions for this very reason."

Pondering the meaning of the title of the composition, we sought out the liner notes by Leonard Feather from the original LP, where he writes: "
Between The Fourth And The Fifth Step
was so named because of the subtle variation between 5/4 and 4/4 feeling—'I don't think it gets entirely into either,' Roland observes." This statement only adds to our confusion, since the constant eighth note pulses generated by the melodic line are actually 6/8 going into 5/8 and then back to 6/8.
There are more Kirk titles available from
this album
.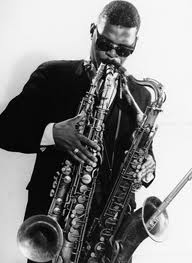 August 7, 1935 – December 15, 1977
With a stritch dangling below his knees, manzello and tenor sax hanging from his neck and a hodgepodge of various homemade instruments, Roland Kirk was a surreal, innovative and inspiring saxophonist who was intensely serious about music. Born in Columbus, Ohio, he became blind at an early age. Taking up an assortment of instruments early on, he began playing tenor sax professionally in R&B bands by the age of 15. Infatuated by the manzello (saxello soprano) and stritch (straight alto saxophone), he reshaped the saxes so he could play all three simultaneously, evident in his first recording in 1956, "Triple Threat." By 1960 he had incorporated the siren whistle into his solos, and by 1963 had mastered circular breathing. Even while playing two or three saxophones at once, Kirk's music was powerful jazz with a strong feel for the blues. Read more...