Frank Socolow
September 18, 1923 – April 30, 1981
| | |
| --- | --- |
| Instrument | tenor sax |
| Birthplace | New York, NY |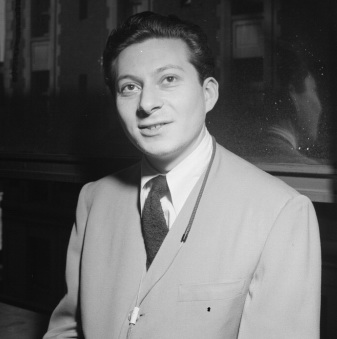 Often overlooked as he played primarily in big bands and only recorded two sessions as a leader, Frank Socolow was nonetheless a modestly important figure on the early bebop scene. He is best known for his first recording as a leader, a May 1945 quintet session featuring the under-recorded but legendary trumpeter Freddie Webster as well as then-emerging master pianist Bud Powell. This session is notable for being Powell's first recording outside of Cootie Williams' big band and sextet.
Socolow began his career playing in swing big bands; his first recording, in 1944, was a sextet session led by the great swing-era drummer Big Sid Catlett. In the mid- to late '40s he played in the more modern-styled big bands of Boyd Raeburn, Chubby Jackson, and Buddy DeFranco, as well as with Artie Shaw and Machito. Socolow kept abreast of the new directions in jazz through the decade, from swing to bebop and beyond. During this time his tenor playing transformed from a rich-toned, romantic style influenced by Ben Webster (as heard in his own quintet session) to a lighter "cool school" sound closer to Lester Young.Socolow's apartment was a meeting place for an emerging scene of musicians including vibraphonist Terry Gibbs and composer/arranger Johnny Mandel.
The few small-group recordings Socolow played on include a 1953 quintet session by guitarist Sal Salvador, one of the earliest Blue Note LPs recorded at Rudy Van Gelder's living room studio in Hackensack, New Jersey. Salvador also played on Socolow's only LP as a leader, "Sounds By Socolow" recorded for the Bethlehem label in 1956. This album also features trombonist Eddie Bert and pianist Eddie Costa, and includes Socolow's only three recorded compositions. In 1957 Van Gelder recorded Socolow again, on a live album at the Five Spot Cafe in New York by an all-star sextet also including baritone saxophonist Cecil Payne and alto saxophonist Phil Woods. Issued on Savoy as "Bird's Night," this live recording was a tribute to Charlie Parker.
In the late '50s, Socolow continued to play in Boyd Raeburn's band and with other forward-thinking big band leaders such as Elliot Lawrence, Johnny Richards, and Manny Albam. He still worked in swing and Latin bands as well, appearing on recordings by Gene Krupa and Tito Rodriguez. Not much is known about the last two decades of Socolow's career. He appears on one last recording in 1977, "The Progressive Records All Star Tenor Sax Spectacular," alongside five other tenor players including fellow bebop-era veterans Flip Phillips and Ray Turner and then-rising stars Peter Loeb, Bennie Wallace, and Scott Hamilton.
from Maureen Sickler I remember talking with Rudy Van Gelder about Frank, since we (SFM) publish some of his music, and Rudy was then remastering many Blue Note albums for re-release. Rudy remembered that he used to call him Frankie Sokolow (like sock, on your feet).