Wise And Wonderful Book

– Bertha Hope

A beautiful, deep ballad with an irregular form, dedicated to bassist Walter Booker. A melody transcription is available from Bertha's second recording, as well as her solo piano arrangement which has an exclusive recording by Glenn Zaleski.
Recording:

Bertha Hope - In Search Of . . .

Recorded on:

October, 1990

Label:

SteepleChase (SCCD 31276)

Concert Key:

D-flat

Vocal Range:

, to

Style:

Ballad
Piano - Bertha Hope
Bass - Walter Booker
Drums - Billy Higgins
A beautiful ballad with strong emotional depth,
A Wise And Wonderful Book
certainly lives up to its title. This song really does tell a story as the melody and harmony constantly shift around—a story with no end, perhaps, as the form concludes with an unresolved D6(♯11) in the key of D♭. As shown on our lead sheet, the form consists of an 11-measure A section—further divided into 4, 3, and 4-measure phrases—and B and C sections each 6 measures long. This form has no repeats, though the opening melody phrase reappears several times in different transpositions.
The changes have a mixture of II-V7s and more unpredictable movement, with many deceptive cadences and unexpected resolutions. Several chords feature suspensions and shifts in their upper extensions, for example at the beginning where the B♭ and D♭ of A♭7sus go to the A and C in A♭13(♭9). There are a few rhythm section figures in the B section, including two hits in each of the last two measures on A♭ and E major chords. Bertha always plays the second of these measures an octave above the first; this is indicated with small noteheads on our lead sheet. If a horn player is playing the melody, they can rest on this measure and let the pianist play this upper-octave response. The last two measures of the head are open on D6(♯11) for the soloist to begin; there is a coda that extends this chord for four measures before a final fermata.
Our lead sheet is based on Bertha's solo piano arrangement, and is a bit different from her two recordings. Some chord extensions are different, but most notably on both recordings the 6th and 7th measures of the A section are condensed into one measure with each chord two beats long, resulting in a 10-measure A section. The phrase starting in the second half of the sixth measure in our lead sheet instead starts in the first half, with the eighth notes becoming sixteenth notes.
See the last
album cover
for details on Bertha's solo piano arrangement.
Recording:

Bertha Hope - Between Two Kings

Recorded on:

1992

Label:

Minor Music (801025)

Concert Key:

D-flat

Vocal Range:

, to

Style:

Ballad
Piano - Bertha Hope
Bass - Walter Booker
Drums - Jimmy Cobb
A Melody Transcription is available for this recording, showing how Bertha interprets her own melody on the in head. Though this is a single-staff transcription that doesn't show complete piano voicings, it does indicate where melody notes are played as the top of rolled chords. The form is again shortened in the A section, but the C section is extended with two more measures of D6(♯11) at the end.

Bertha wanted to record this composition, dedicated to her partner, the bassist
Walter Booker
, in 1992, although she had recorded it already in 1990 on "
In Search Of . . .
" In the "
Between Two Kings
" liner notes, Bertha wrote, "I enjoy going back and listening to musicians' first rendition of a song and then hearing them record it years later either faster or slower, sparser or more lush. It grows. I believe you put something of your life into your music. The music is your life and your life is your music. The growth of a piece when you felt a certain way continues to be conditioned by your experience. I have a different feeling about this piece now, how the melody moves over the chords. And I wanted to repeat something that I've recorded before just to grow in it."
Recording:

Glenn Zaleski - Glenn Zaleski Plays Bertha Hope's Solo Piano Arrangements

Recorded on:

December 1, 2012

Label:

jazzleadsheets.com (JLS 1054)

Concert Key:

D-flat

Vocal Range:

, to

Style:

Ballad
Bertha Hope's solo piano arrangement is available, in an exclusive recording by Glenn Zaleski. Click on Piano Corner for details about the arrangement.
During the summer of 2012, Glenn Zaleski investigated music written by Bertha Hope, at the suggestion of
Don Sickler
. After intensive exploration, Bertha joined Glenn at the jazzleadsheets studio to answer questions about her music, and to offer interpretive suggestions. Glenn learned Bertha's solo piano arrangements, and in December, Glenn, Bertha and Don convened in Rudy Van Gelder's Englewood Cliffs studio to
document the music
, on Van Gelder's 1954 Steinway.
A Wise And Wonderful Book is a deep, emotional ballad full of constantly shifting harmonies. Bertha Hope's solo piano arrangement illustrates these harmonies perfectly with rich two-handed voicings below the melody. Bass figures in the left hand help to connect the changes in particularly smooth motions. The chord symbols are detailed showing all the important alterations and extensions. The D6(♯11) at the end features a rising pyramid of voicings with a final phrase answered an octave higher, like at the end of the B section.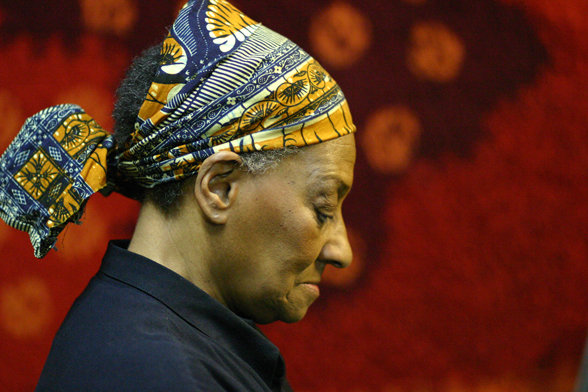 born on November 8, 1936
A dynamic force in improvised music, pianist Bertha Hope has been making headway in the jazz scene since the early 1960s. Raised in Los Angeles, Bertha attended Manual Arts High School. She began her jazz journey with pianists Elmo Hope and Richie Powell in her youth. Although she studied piano at Los Angeles Community College, she received her B.A. in early childhood education from Antioch College. She married Elmo in 1960; they moved to New York where Bertha worked as a telephone operator by day and performed at night. Read more...