White Gardenia

– Johnny Griffin

A sentimental ballad written in honor of Billie Holliday that conjures her beautiful soul.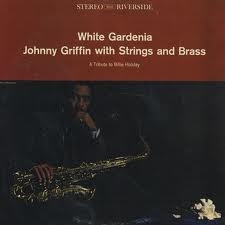 All selected items will be available for download after purchase.
Recording:

Johnny Griffin - White Gardenia

Recorded on:

July 17, 1961

Label:

Riverside (RLP 120387)

Concert Key:

C minor

Vocal Range:

, to

Style:

Swing (slow)
Trumpet - Clark Terry, Ernie Royal, Nat Adderley
Tenor Sax - Johnny Griffin
French Horn - Ray Alonge
Trombone - Jimmy Cleveland
Trombone - Urbie Green, Paul Faulise
Guitar - Barry Galbraith
Piano - Jimmy Jones
Bass - Ron Carter
Drums - Ben Riley
Viola - Alfred Brown, Harry Lookofsky
Viola - David Schwartz
Cello - Abe Kessler, Peter Makas
Cello - Charles McCracken, Lucien Schmit
The audio clip starts with the pick-up note of Johnny's beautiful melody. The recording features a rich arrangement by
Melba Liston
. Most great ballads can be performed in a variety of ways. You'll note that Melba heard her orchestration pulsed by walking bass. The recorded introduction to her arrangement starts with cellos alone, then adds the rhythm section. Johnny takes a solo before beginning the melody.
On the recording, the bridge of the melody is played by the brass. For the lead sheets, we've written out the AABA (12-12-8-12) melody so you can perform it as you hear it, with the melody intact. The six-measure recorded ending, which Johnny solos over on the recording, is included.
This is the title song and the only original by Johnny Griffin on a beautiful tribute album to vocalist Billie Holiday, who had died just two years previously.
Melba Liston
and
Norman Simmons
provided the beautiful arrangements, featuring Griffin in a role in which he excelled, improvising over orchestrated ballads.
The year of this recording, 1961, started on January 6, with Griffin on a "Live At Minton's Playhouse" recording teamed up with
Eddie "Lockjaw" Davis
. A month later, on February 7, they recorded "Looking At Monk," and Johnny started to record his "
Change Of Pace
" album (
Same To You
). Nine days later they finished the album (
Why Not?
).
On March 9, Johnny recorded his
Sweet Sucker
on a Bennie Green date, and on June 5, he was back with Lockjaw to work on their "Blues Up And Down" album. After Griffin's Holiday tribute album was recorded, the two tenors finished their album on August 17.
Before the end of 1961, Johnny did the first session of Eddie Jefferson's "Letter From Home" album, which was completed on January 12, 1962, with Johnny's
Soft and Furry
, which is included in "
Sing JAZZ!
" (available from
MusicDispatch.com
. On December 21,1961, Johnny's last session of the year, his quartet recorded another one of his beautiful ballads,
Oh, Now I See
.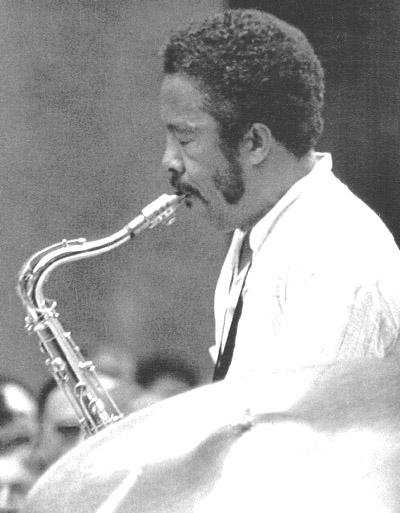 April 24, 1928 – July 25, 2008
A tenor saxophonist of amazing energy and invention, Griffin was influenced by such revered artists as Johnny Hodges, Charlie Parker and Ben Webster. He was first heard prominently in his youth with Lionel Hampton's orchestra from 1945-47, making his first recording with Hamp when he was only 17 years old. In 1947, Griffin joined Joe Morris's rhythm & blues group. Morris (trumpet) had also been a recording member of Hamp's bands since 1943. He left Hamp a little before Johnny did. By 1948 the Morris band had changed personnel to include Elmo Hope (piano), Percy Heath (bass) and Philly Joe Jones (drums) along with Matthew Gee on trombone. Read more...