Pentimento

– David Hazeltine

A charming post-bop bossa with a long form. Lead sheets and a solo piano arrangement are available.
All selected items will be available for download after purchase.
Recording:

David Hazeltine - 4 Flights Up

Recorded on:

July 27, 1995

Label:

Sharp Nine (1002)

Concert Key:

E-flat

Vocal Range:

, to

Style:

Latin (Samba)
Trombone - Slide Hampton
Piano - David Hazeltine
Bass - Peter Washington
Drums - "Killer" Ray Appleton
Our audio excerpt start with the intro, which is also cued into all our lead sheet editions. The horn melody on this recording is trombonist Slide Hampton, and we've preserved the octave shifts in the bass clef lead sheet edition to show the way he played the melody on the recording.

David Hazeltine's Solo Piano Arrangement is recommended for pianists so you can get inside all his voicings and fill passages.

Though this song is a bossa, many of the melodic ideas are influenced by bebop and hard bop. The changes are logical and rewarding to blow on, visiting a few different keys (G♭, E, D♭) in the B and C sections. The form offers a few surprises. The C section does not feel like eight measures, with the same chord (Emaj9) over the fourth and fifth measures. D is a repeat of A, and E starts like a repeat of B but continues with the melodic idea of the third and fourth measures of A. Both the F and G sections feature repeating two-measure rhythm section figures. The G section also appears as an intro.
"Pentimento" is a word with a very specific meaning: if a painting has been made over another painting on the same canvas, a pentimento is a trace of the earlier work that is visible through the newer layer.
"4 Flights Up" was David Hazeltine's first album as a leader. It is also the only recording to date that features Hazeltine alongside trombonist
Slide Hampton
or drummer "Killer" Ray Appleton.
Peter Washington
, on the other hand, is a longtime collaborator of Hazeltine's; by 1995 they had recorded together with trumpeter Brian Lynch and with saxophonist Jim Snidero. Hampton and Washington also played on Appleton's first album as a leader, "Killer Ray Rides Again," in 1996.
Solo Piano Arrangement: David's three-page solo piano arrangement gives you the important piano fills and hits that you hear him play in the recordings. His compositions are always full of lots of harmonic and melodic interest, and we're sure you'll enjoy experiencing this piece as he wrote it for solo piano.

When the hits line up with the melody, they are voiced; the voicings are mostly third-based, but in the intro and the last eight measures the right hand plays voicings in fourths.
All selected items will be available for download after purchase.
Recording:

Eric Alexander - Two Of A Kind

Recorded on:

December 15, 1996

Label:

Criss Cross Jazz (1133)

Concert Key:

E-flat

Vocal Range:

, to

Style:

Latin (Samba)
Tenor Sax - Eric Alexander
Piano - David Hazeltine
Bass - John Webber
Drums - Joe Farnsworth
This version is slower and more relaxed than the original, done a year and a half earlier, also with composer David Hazeltine on piano. Eric Alexander on tenor sax plays the melody in the same general range as Slide Hampton on trombone on the original recording; however, he plays some of the melody an octave lower than where Slide plays it.

The C lead sheet presents the melody with the intervals that Eric plays, an octave higher throughout except on the F and G sections. The bass clef lead sheet for trombone shows where Slide changes octaves.
"Two Of A Kind" is Eric Alexander's seventh album as a leader. It is also the first recording of Alexander and Hazeltine together. The album's title refers to the two-horn combination of Alexander and baritone saxophonist Cecil Payne, who sits in on three songs. (We hope to make some of Payne's compositions available on jazzleadsheets.com soon.) The quartet heard here would go on to become most of the sextet One For All, with the addition of trumpeter
Jim Rotondi
and trombonist
Steve Davis
; the first One For All album was recorded in 1997.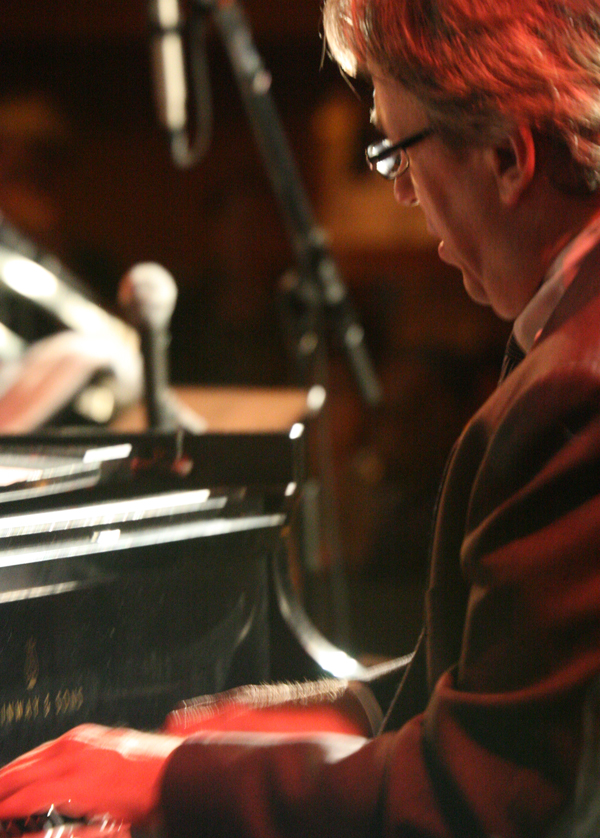 born on October 27, 1958
Heralded by pianist Cedar Walton as the "brightest star on jazz piano's horizon," David Hazeltine is considered to be one of jazz's premier pianists as well as composer-arrangers. With a mantra to "swing as much as humanly possible," David's style is infused with influences of Art Tatum, Bud Powell, Buddy Montgomery, Barry Harris and Cedar Walton while still retaining his own fiercely individual voice. Hailing from Milwaukee, David made his professional debut on the organ when he was just thirteen years old. Read more...