Monaco

– Kenny Dorham

The magic of this composition is fully realized in Kenny's multi-tempo arrangement. Everyone can explore this themselves through the Minus You tracks in our "K.D. Challenge" editions.
All selected items will be available for download after purchase.
Recording:

Kenny Dorham - 'Round About Midnight At The Cafe Bohemia

Recorded on:

May 31, 1956

Label:

Blue Note (BLP 1524)

Concert Key:

F minor

Vocal Range:

, to

Style:

Latin/swing (medium)
Trumpet - Kenny Dorham
Tenor Sax - J.R. Monterose
Guitar - Kenny Burrell
Piano - Bobby Timmons
Bass - Sam Jones
Drums - Arthur Edgehill
We start our exploration of this wonderful K.D. composition with the two takes Kenny recorded on this live recording. Listening to our A section excerpts of both recorded takes (one after the other), you'll hear Kenny's two different interpretations of his A section melody.
master take
CLIPA
alternate take
CLIPB
Note from Don Sickler:
In 1991 I did a
sextet (three-horn) arrangement
of
Monaco
for the album "Take One," T.S. Monk's first recording for the Blue Note label. I had listened closely to Kenny's two takes on his live quintet recording, and fortunately Kenny Dorham had also deposited his own carefully notated lead sheet of the 16-measure A section of
Monaco
at the Copyright Office in 1958, one year after his earlier publisher had registered a less accurate lead sheet. Kenny's lead sheet became the basis for the trumpet melody part for my sextet arrangement and the melody edition lead sheet for our "
K.D. Challenge
" Minus You tracks, which also contain the (B) and (C) sections of the composition.
Now, we've made available full melody transcriptions (the complete in and out melodies of both of Kenny's recorded takes), so you can study this master interpreting his own melody. Comparing these melody transcription editions with my lead sheet edition, which came from Kenny's manuscript, will give you further insight into creating your own melody interpretation. The piano, bass and drum editions for both recordings are the same.
In my original sextet arrangement and in our "
K.D. Challenge
" editions I expanded Kenny's original arrangement by adding horn exchanges with drums (8s). From Kenny's original recording you'll find that he gets out of the double time solo tempo ingeniously by immediately interjecting an eight-measure interlude consisting of "and-of-4" stop time hits with little drum setups, ending with a bar of dead silence to set up the return to the original Latin A section. In my arrangements, the drums continue to solo through the interlude, up to the dead stop.
Though this song may seem complex with its tempo changes and rhythm section figures, it is actually relatively simple for a Dorham composition. A song in F minor, its melody picks up exactly where the coda of
Minor's Holiday
leaves off. The mood is set by a Latin groove intro with a mysterious-sounding bass line, which continues on the first and last four measures of this 16-measure form; the middle eight measures are swinging. After this first chorus, the tempo doubles for an interlude or "bridge" with rhythm section stop-time. A variation of the A section melody is then played again in the same faster tempo, again with stop-time figures at the beginning and end. This section is also the solo form. The interlude which follows the solo section reintroduces stop-time. On Kenny's original recording, the tenor sax plays simple "pads" under the swung parts of the melody. I expanded this idea in my three-horn arrangement.
Note that the lead sheets available under each album cover are identical; if you click to order one, the checkmark will also appear by the part under the other album (click on the album cover to change views).
"'Round About Midnight At The Cafe Bohemia"
was recorded remotely by the legendary
Rudy Van Gelder
at The Cafe Bohemia in New York City.
Kenny's first recorded take of this composition [which became the alternate take] comes from the first set of the evening. Guitarist
Kenny Burrell
was added to the group starting in the second set, and in the third set they did
Monaco
again, where Burrell also joins the group for a solo. Burrell had just recorded his second album as a leader, "Introducing Kenny Burrell," over the previous two days.
Exactly one week after K.D. did the last session of his "
Afro-Cuban
" album for Blue Note, he recorded a new group called Kenny Dorham and the Jazz Prophets for the ABC Paramount label (April 4, 1956). This
Monaco
session, which was at the end of the next month, is this same new band, except that original pianist Dick Katz was replaced by
Bobby Timmons
(it was Bobby's first recording session). Kenny also introduced his tenor saxophonist
J.R. Monterose
to the Blue Note label with this session, leading to Blue Note giving J.R.
his own session
as a leader five months later. Drummer
Arthur Edgehill
's first recordings were also as a member of the Jazz Prophets. On November 9, 1956, Edgehill recorded
Gigi Gryce
's
Transfiguration
, on
Mal Waldron
's session. Edgehill's next session started several years of recording with tenor saxophonist
Eddie "Lockjaw" Davis
alongside organist Shirley Scott and bassist
George Duvivier
. The other member of K.D.'s Jazz Prophets is bassist Sam Jones, who was also introduced to the Blue Note label with this recording. Sam had recorded before K.D's Jazz Prophets, but only on little-known sessions under the leadership of saxophonist Paul Williams and bandleaders Tiny Bradshaw and Rufus Gore. After K.D.'s Blue Note introduction, Sam became a highly sought-after bassist. To help put Sam Jones in perspective, check him out on jazzleadsheets.com. Sam played on all the sessions whose song titles are in
this list
.
Monaco
remains little-known and rarely recorded, with one notable exception being a version on T.S. Monk's 1991 album "Take One" arranged by jazzleadsheets.com's
Don Sickler
. Saxophonist Bobby Porcelli plays both on the T.S. Monk recording and our "
K.D. Challenge
" version.
All selected items will be available for download after purchase.
Recording:

Don Sickler - The K.D. Challenge

Recorded on:

October 6, 2001

Label:

jazzleadsheets.com (JLS 1033)

Concert Key:

F minor, No key center

Vocal Range:

, to

Style:

Latin/swing
Trumpet - Don Sickler
Alto Sax - Bobby Porcelli
Piano - Cecilia Coleman
Bass - Tim Givens
Drums - Vince Cherico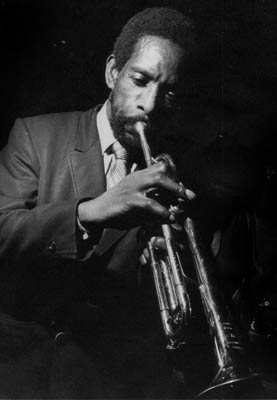 August 30, 1924 – December 15, 1972
Trumpeter/composer Kenny Dorham was very much on the jazz scene from the mid-1940s through most of the 1960s. He worked and recorded with all the major figures in the modern jazz movement, which includes the legendary Billy Eckstine big band, Dizzy Gillespie, Art Blakey, Bud Powell, Charlie Parker, Thelonious Monk and Max Roach as well as Kenny Clarke, Sonny Stitt, Fats Navarro, J.J. Johnson and many other giants of that period. Read more...