Minority

– Gigi Gryce

Gigi Gryce's biggest jazz standard. Transcriptions available of Gigi Gryce's alto sax solo and Joe Gordon's trumpet solo. Lead sheets and second parts available.

All selected items will be available for download after purchase.
Recording:

Art Blakey - Blakey

Recorded on:

May 20, 1954

Label:

EmArcy (MG 26030)

Concert Key:

F minor

Vocal Range:

, to

Style:

Latin/swing (medium up)
Trumpet - Joe Gordon
Alto Sax - Gigi Gryce
Piano - Walter Bishop, Jr.
Bass - Bernie Griggs
Drums - Art Blakey
Video
Mt. Fuji Jazz Festival with Blue Note Jam Session, 1988: Philip Harper, trumpet; Ralph Peterson, cornet; Steve Wilson, alto sax; Bill Pierce, tenor sax; Michel Petrucciani, piano; Curtis Lundy, bass; Lewis Nash, drums
Antonio Madruga, piano; Russell Hall, bass; Michael Piolet, drums; live at Van Dyke Cafe, Miami, 2011.
Bud Shank, alto sax; Bill Mays, piano; Bob Magnusson, bass; Joe LaBarbera, drums; on TV in Sao Paulo, Brazil, 2004.
Warren Wolf Group: Tim Green, alto sax; Craig Alston, tenor sax; Warren Wolf, piano; Kris Funn, bass; John Lamkin, drums; live at Caton Castle, Baltimore, 2008.
Ben Rosenblum refines his phrasing on the piano by practicing along with Gigi Gryce's alto solo.
Minority is definitely a Gigi Gryce "jazz standard." It's been recorded many times by many different artists. Our audio excerpt starts with the melody, but Gigi's arrangement (and the recording) starts with a Latin intro and ends with a Latin coda. Both are notated in the lead sheets. This is a two-part front line arrangement. Therefore, in addition to melody lead sheets, second parts are available separately as indicated.


Transcribed Alto Sax and Trumpet Solos:
This Gigi Gryce classic is worthy of special attention, as are the soloists. Gigi Gryce and Joe Gordon have different approaches to this great composition: compare how the two different soloists navigate the changes, first Gigi
alto
then Joe
trumpet
. There are concert editions of both solos; a B-flat edition is also available for Gigi's alto sax solo, so trumpet players, for example, can get inside the mind of the saxophonist.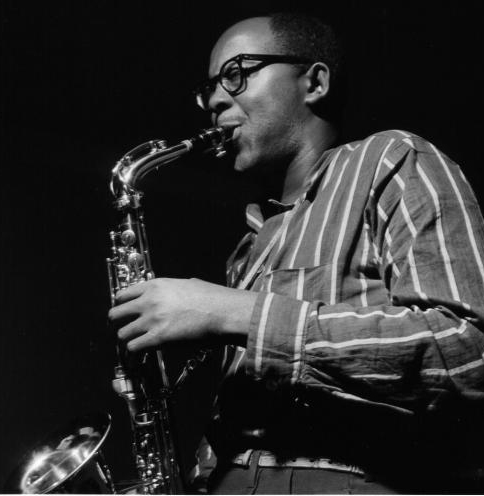 November 28, 1925 – March 17, 1983
Gigi Gryce was a fine altoist in the 1950s, but it was his writing skills, both composing and arranging (including composing the standard Minority) that were considered most notable. After growing up in Hartford, CT, and studying at the Boston Conservatory and in Paris, Gryce worked in New York with Max Roach, Tadd Dameron, and Clifford Brown. He toured Europe in 1953 with Lionel Hampton and led several sessions in France on that trip. Read more...