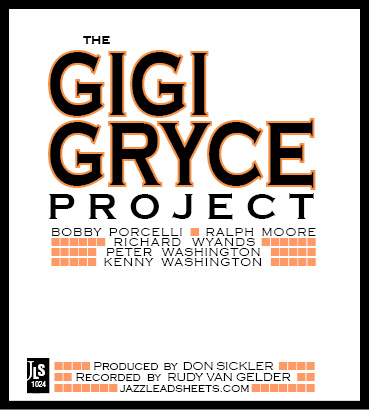 The Gigi Gryce Project
Leader: Gigi Gryce
Label: jazzleadsheets.com (JLS 1024)
Recorded at the legendary Van Gelder Studio in Englewood Cliffs from August 31st-September 2nd, 1999.
Personnel: Alto Sax - Bobby Porcelli Tenor Sax - Ralph Moore Piano - Richard Wyands Bass - Peter Washington Drums - Kenny Washington
An album of great Gigi Gryce music, performed by a quintet of great jazz artists.
Click the play button in front of each title to hear an audio excerpt of the track.
THAT'S NOT ALL!
We also have "Minus You" editions and tracks available so any instrumentalist can put themselves in the recording session.
Click on the song titles below, then scroll down and click on the Minus You tab to explore tracks for your instrument.