Catherine's Fantasy

– David Hazeltine

A dramatic ballad with quite a long form. David Hazeltine's Solo Piano Arrangement is available.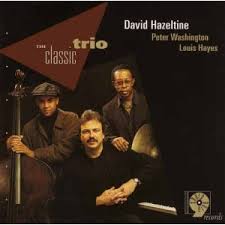 All selected items will be available for download after purchase.
Recording:

David Hazeltine - The Classic Trio

Recorded on:

August 22, 1996

Label:

Sharp Nine (CD 1005-2)

Concert Key:

B-flat

Vocal Range:

, to

Style:

Ballad
Piano - David Hazeltine
Bass - Peter Washington
Drums - Louis Hayes
This dramatic ballad is well deserving of the title "fantasy" in the classical music sense—an inventive piece with usually a non-repeating form. Though Catherine's Fantasy does repeat, it's often unpredictable and certainly inventive. The form is 48 measures long, divided into three sections of 18, 12, and 18 measures; the two 18-measure sections (A and C) are the same. The harmonies are largely II-V7 based but with quite a lot of tritone substitution, for example in the beginning with B7 going back to B♭, and then E7 going to E♭. This E♭ chord in the fifth measure begins a series of chromatically descending key centers; D♭ in the ninth measure is followed by Dm7 and G7 going not to the expected C major but to G♭. The last eight measures of the A section contain dramatic contrary-motion phrases (melody ascending in an arpeggio, roots descending stepwise) in G♭ and then B♭ tonalities. The melody then descends to the tonic, but the changes tell a different story: a slightly disguised circle of fourths to harmonize the melody's final B♭ with Bmaj7.

The bridge starts with shifting harmonies over an F pedal point, modulating to an A♭ pedal point starting in the fifth measure. The last four measures of the bridge have a slick stepwise harmonic motion to get back to B♭; the melody descends here in a similar way to the end of the A section. This song never resolves to a tonic B♭ major chord; the last chord is always Bmaj7, the classic "deceptive tonic."
For another from "
The Classic Trio
" check out
One For Peter
. Hazeltine first recorded with drummer Louis Hayes in 1995 on Brian Lynch's album "Keep Your Circle Small;" they next recorded together on Hayes' 1996 album "Louis At Large" also featuring bassist
Santi Debriano
. The trio of Hazeltine, Hayes, and Peter Washington reunited as the rhythm section of a sextet led by trumpeter John Marshall at the 2012 Generations Jazz Festival in Frauenfeld, Switzerland, with saxophonists Johan Horlen and
Grant Stewart
; a recording of this performance was issued as "Marshall Plays Hazeltine."
Solo Piano Arrangement The Solo Piano Arrangement is essentially the way David plays the melody on this recording. Most of the melody is voiced with both hands. In several places there are brief countermelodies filling in the long notes of the melody. In this arrangement, chord extensions are shown below the staff for an analysis of the voicings.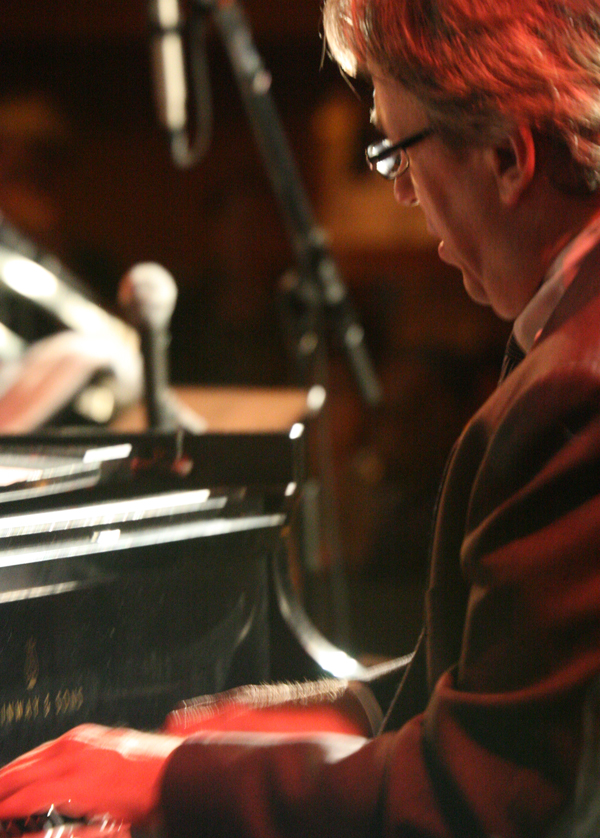 born on October 27, 1958
Heralded by pianist Cedar Walton as the "brightest star on jazz piano's horizon," David Hazeltine is considered to be one of jazz's premier pianists as well as composer-arrangers. With a mantra to "swing as much as humanly possible," David's style is infused with influences of Art Tatum, Bud Powell, Buddy Montgomery, Barry Harris and Cedar Walton while still retaining his own fiercely individual voice. Hailing from Milwaukee, David made his professional debut on the organ when he was just thirteen years old. Read more...