One For Peter

– David Hazeltine

Inspired by Peter Washington, this infectious bop head gives the bass a real workout. David Hazeltine piano solo and Peter Washington bass solo transcriptions available.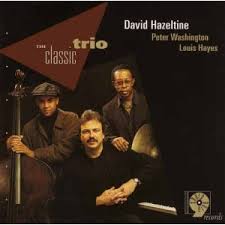 All selected items will be available for download after purchase.
Recording:

David Hazeltine - The Classic Trio

Recorded on:

August 22, 1996

Label:

Sharp Nine (CD 1005-2)

Concert Key:

F

Vocal Range:

, to

Style:

Swing (medium up)
Piano - David Hazeltine
Bass - Peter Washington
Drums - Louis Hayes
This David Hazeltine composition stands on its own as a superb melody that draws on bop vernacular. But it's David's unusual arrangement that makes it memorable: when the piano and bass play in unison, the melody really shines. Try this chart with any combination of instruments you like, but we recommend featuring the bass in some capacity on this smoking hot head, as keeping the bass in unison with the melody brings out the appealing syncopation of David's writing. Get ready for a bit of a challenge—and a whole lot of fun!
The title refers to the bassist on the recording, Peter Washington, a close friend of composer David Hazeltine. The pair first recorded together on a Brian Lynch session in 1989, not long after Peter moved to New York to join the Jazz Messengers (1986). It was not until 1995 that Peter accompanied David on David's session as a leader, "4 Flights Up." Since then, Peter has been a sideman on twelve additional Hazeltine leader sessions, not including their work together with the One For All collective.
David later wrote and recorded another composition featuring Peter,
Pete's Sake
.
Peter Washington Bass Solo:
Peter Washington's bass solo
bass
captures his particularly melodic lines over this chart written especially for him. The audio except starts with the end of the melody.
David Hazeltine Piano Solo:
David's epic 11-page piano solo
piano
is available. The piano solos second, following Peter's bass solo.
Bass Melodies (Peter Washington, bassist)
This is a chance for the bass player to BURN on an extremely well thought out and well arranged composition. As the name states, this was dedicated to bassist Peter Washington, a modern day icon amongst those who play this instrument.

One For Peter will test your dexterity and put your reading skills to work, for there is a multitude of rhythmic variation as well a variety of linear contour and chromaticism. These challenges will provide the bass player with new ideas for soloing and will open up the floodgates as far as rhythmic interpretation is concerned. Once you have this piece together, you'll be comfortable phrasing melodies on all parts of the beat, for varying lengths and all over the lower to middle register of the bass.

In addition, once the piece is up to performance tempo, the player will have an enhanced technique, for the melody moves by at a brisk pace that requires focus on efficiency and economy for the hand pulling the strings. There is no way to successfully take this melody to the bandstand if one doesn't put sufficient time into studying how to produce sound effectively and competently.

So, calling all bass players: Come test out your skills on One For Peter.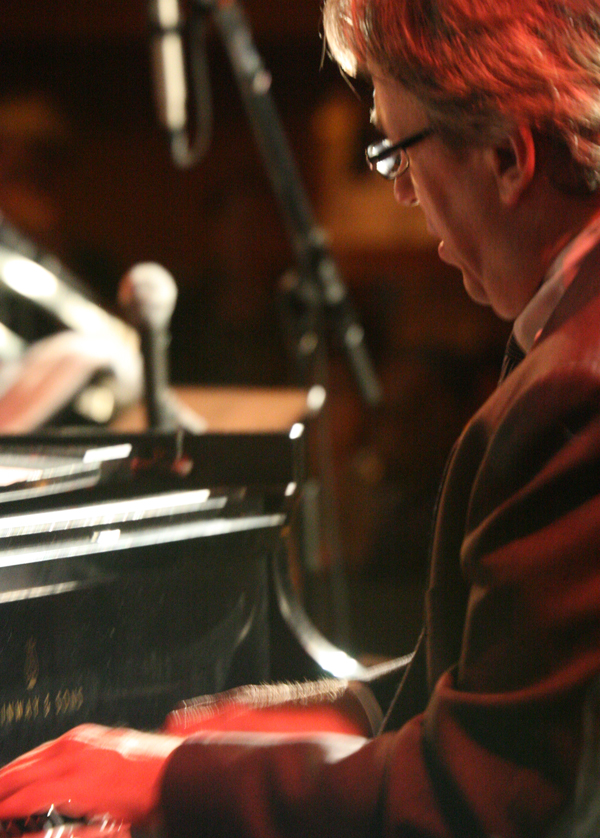 born on October 27, 1958
Heralded by pianist Cedar Walton as the "brightest star on jazz piano's horizon," David Hazeltine is considered to be one of jazz's premier pianists as well as composer-arrangers. With a mantra to "swing as much as humanly possible," David's style is infused with influences of Art Tatum, Bud Powell, Buddy Montgomery, Barry Harris and Cedar Walton while still retaining his own fiercely individual voice. Hailing from Milwaukee, David made his professional debut on the organ when he was just thirteen years old. Read more...