Capri

– Gigi Gryce

An unusual form gives this underrated classic a bit of a twist.
All selected items will be available for download after purchase.
Recording:

J.J. Johnson - The Eminent J.J. Johnson, Vol. 1

Recorded on:

June 22, 1953

Label:

Blue Note (BLP 1505)

Concert Key:

E-flat

Vocal Range:

, to

Style:

Swing (medium up)
Trumpet - Clifford Brown
Trombone - J.J. Johnson
Tenor Sax - Jimmy Heath
Piano - John Lewis
Bass - Percy Heath
Drums - Kenny Clarke
This is the first recording of Gigi's composition
Capri.
This sextet version is in a different key from
Gigi's later version
with trumpeter Art Farmer (see next album cover). J.J. preferred the key of E♭ for this melody, as it is higher in the trombone's range and showcases its middle and upper register. Besides this, there are several other differences, as you can see by comparing these E♭ concert editions for this recording with the editions based on the Art Farmer recording.
About this recording
On this version, the rhythm section plays with a 4-feel throughout, never pedaling. The melody is slightly different from Gigi's recording, most notably in the third measure, where the first five notes are the same; in Gigi's version the melodic motion is stepwise. Several melody notes that Gigi played on the beat are here anticipated by one eighth note: beat 4 of the fourth measure and the downbeats of the ninth and thirteenth measures. Conversely, the note that in Gigi's version is played on the "and" of beat 2 of the eighth measure is here on beat 3. The last note of the melody is not held out all the way to the end of the last measure in this version, and the ending is in minor rather than major.
Transcriptions of
Clifford Brown
's solos on both the master and alternate takes are available; see the Solos tab on this page.
The version of
Capri
featured here is widely known, due to the presence of
Clifford Brown
and its release on the Blue Note label. Gigi's first recording session with Clifford Brown (June 11, 1953) was just eleven days prior to the J.J. session. Gigi and Clifford had been rehearsing and playing with the new band
Tadd Dameron
had assembled in that summer. J.J and Gigi would record together only twice: first on February 28, 1954, on a Henri Renaud session, in a group which also featured
Al Cohn
and
Walter Bolden
; and on November 20, 1956, when J.J. and Gigi were both on a big band session backing pop singer Johnnie Ray.
J.J. was on recordings of several more Gryce compositions:
Basheer's Dream
(1955), and on three different 1957 sessions:
Blue Lights, Hymn Of The Orient
and
Salute To Birdland
(see the Historical Notes on the last three titles for additional details).
J.J recorded two other Blue Note albums, all titled "The Eminent J.J. Johnson"; volume 2, in September, 1954, featured Wynton Kelly (his fourth of many Blue Note sessions), Charles Mingus, Kenny Clarke and Sabu Martinez. In June, 1955, came volume 3 with
Hank Mobley
, Horace Silver,
Paul Chambers
and Clarke; this was the only Johnson album with either Mobley or Silver, though all three played on the classic
Kenny Dorham
album "
Afro-Cuban
."
Transcriptions of
Clifford Brown
's trumpet solos on both the master and alternate takes are available; see the Solos tab here.
Solo Trumpet Transcriptions
of Clifford Brown's trumpet solos on both the master and alternate takes are available. Clifford takes one chorus on each take. Though none of what he plays is the same on the two takes, the vocabulary is the same and often the general direction and shape of the lines is similar. For example, the start of his solo on the master take
clip
ascends the octave from A on the "and" of beat 2 in the first measure, largely stepwise to the upper A on beat 3 of the second measure. In the slower alternate take
clip
he also begins rising from A, but starting on the third beat of the first measure and moving mostly in 3rds; the upper A is on beat 1 of the second measure. Similarly, both solos include a high C held out: on the master take it occurs on the third and fourth measures of the B section and is held for 5 1/2 beats, while on the alternate take it is in the sixth and seventh measures of B for only three beats.
Clifford's articulation is driving and percussive. Small accent markings (> see below) indicate when notes are tongued a little harder than elsewhere.
Note from Don Sickler:
I'm pretty sure I first met trumpeter Bruce Harris in 2008. As a fellow trumpet player, he was quick to tell me that he was deep into Clifford Brown. In discussing transcribing solos, I know we talked about my dedication to not only notate the correct notes and rhythms of the soloist, but also to indicate their articulations—where they tongue, where they slur, x's for ghost notes, arrows to indicate laid back notes, etc. I have always tried to give as complete a musical fingerprint of the artist as possible. I remember Bruce and I discussing Clifford Brown's amazing tonguing ability. Bruce felt strongly that Clifford also used his tonguing in special ways to direct and emphasize the movement of his lines. Bruce thought that very small accent marks would be helpful to show the way he felt Clifford was directing the line as he was constantly tonguing the notes. For these two transcriptions we've added Bruce's small accent marks so you can contemplate them as you try to get even further inside Clifford Brown's musical language.
All selected items will be available for download after purchase.
Recording:

Art Farmer - When Farmer Met Gryce

Recorded on:

May 26, 1955

Label:

Prestige (PRLP 7085)

Concert Key:

B-flat

Vocal Range:

, to

Style:

Swing (uptempo)
Trumpet - Art Farmer
Alto Sax - Gigi Gryce
Piano - Freddie Redd
Bass - Addison Farmer
Drums - Art Taylor
This is an unusual 36-bar form (a 16-measure phrase which, when it repeats, develops into a 20-measure phrase). Each soloist plays over a dominant pedal for the first four measures of their first solo chorus.

The first to record Gigi's
Capri
was
J.J. Johnson
(June 22, 1953). J.J. recorded it in E-flat, which he felt was a better key for trombone. French pianist Henri Renaud and his quintet also recorded
Capri
before Gigi did, on Renaud's tribute album to Gigi recorded for Vogue on November 2, 1953 (Henri Renaud Quintet - Joue Gigi Gryce). The lead sheet here is from Gigi's own
first recording
of
Capri
. Gigi later recorded this composition with Donald Byrd on "New Formulas from Jazz Lab" for RCA (July 30, 1957). On October 17, 1957, he recorded his nonet arrangement for "Benny Golson's New York Scene" for Contemporary Records.
Learn more about Gigi Gryce on
Noal Cohen's website
.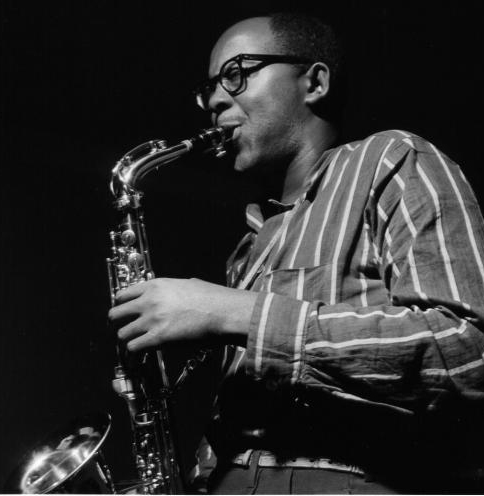 November 28, 1925 – March 17, 1983
Gigi Gryce was a fine altoist in the 1950s, but it was his writing skills, both composing and arranging (including composing the standard Minority) that were considered most notable. After growing up in Hartford, CT, and studying at the Boston Conservatory and in Paris, Gryce worked in New York with Max Roach, Tadd Dameron, and Clifford Brown. He toured Europe in 1953 with Lionel Hampton and led several sessions in France on that trip. Read more...