Hymn Of The Orient

– Gigi Gryce

An uptempo swing built around a repeated-note melody line. Clifford Brown trumpet solo transcription available for both the master and alternate takes in B-flat and C editions.

All selected items will be available for download after purchase.
Recording:

Clifford Brown - Clifford Brown Memorial Album

Recorded on:

August 28, 1953

Label:

Blue Note (BLP 1526)

Concert Key:

C minor

Vocal Range:

, to

Style:

Swing (uptempo)
Trumpet - Clifford Brown
Alto Sax - Gigi Gryce
Tenor Sax - Charlie Rouse
Piano - John Lewis
Bass - Percy Heath
Drums - Art Blakey
The C treble clef lead sheet shows the rhythm section introduction that sets up the arrangement, but our recording excerpt starts with the melody from letter A. Notice how the repeated-note melody line becomes increasingly more interesting as the harmonic movement goes downward by steps. The repeated melody note often becomes an altered extension to the new harmony. Gigi Gryce is full of surprises, as you'll see in the footnote to the solo changes.
Stan Getz
was first to record
Hymn Of The Orient
(December 29, 1952). Another recording by Stan is also now available on "Live At The Hi-Hat 1953-Vol. 1" (March 8, 1953). On August 28, 1953, Gigi brought a sextet arrangement (trumpet, alto sax and tenor sax) to a
Clifford Brown sextet session
for Blue Note Records, and they recorded two takes of it. On December 19, 1957, Gigi arranged it for a trumpet, tenor sax, trombone front line for Benny Golson's "The Modern Touch" album for Riverside. That time the composition was titled
Hymn To The Orient.
Learn more about Gigi Gryce at
Noal Cohen's Jazz History website
. Also see
Gryce's discography
.
Trumpet Solo Transcriptions: Don Sickler explains, "We're offering two Clifford Brown trumpet solos, from different takes. When this recording was made, in 1953, fixing parts or overdubbing solos wasn't possible. The musicians knew that what they played was final. One other important factor: they were thinking about only one take coming out on the record. A second take would be attempted if someone was unhappy with the first, but only one would be picked for the record. So, if you felt you had figured out a good start for your solo, there was nothing wrong with starting every take with it. Clifford Brown had a four-measure idea that got his solo started, and he used it for both takes, as you'll hear in our solo audio clips. After that phrase, he took the solos in different directions. Here's the master take trumpet1 and here's the alternate trumpet2."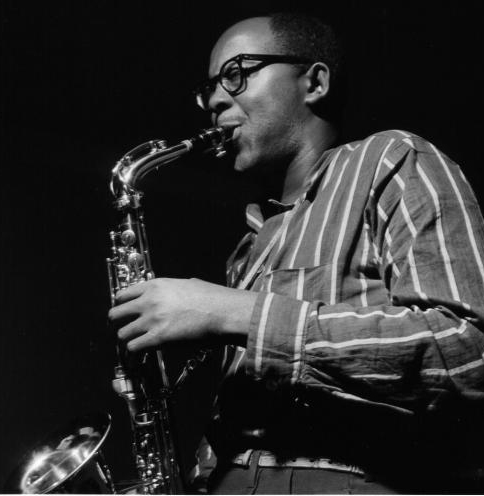 November 28, 1925 – March 17, 1983
Gigi Gryce was a fine altoist in the 1950s, but it was his writing skills, both composing and arranging (including composing the standard Minority) that were considered most notable. After growing up in Hartford, CT, and studying at the Boston Conservatory and in Paris, Gryce worked in New York with Max Roach, Tadd Dameron, and Clifford Brown. He toured Europe in 1953 with Lionel Hampton and led several sessions in France on that trip. Read more...