Hank Mobley
July 7, 1930 – May 30, 1986
| | |
| --- | --- |
| Instrument | tenor sax |
| Birthplace | Eastman, GA |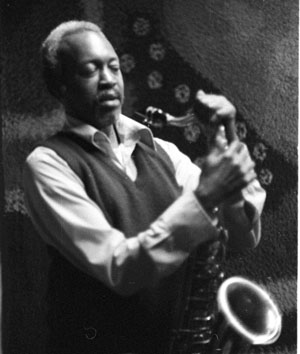 In 1953, Hank Mobley started his jazz recording career with dates for Dizzy Gillespie and Max Roach. He continued playing and recording with Dizzy Gillespie through most of 1954. November 13, 1954, marked the first recording session of a new co-operative quintet called "The Jazz Messengers." The founding members of "The Jazz Messengers" were Kenny Dorham (trumpet), Hank Mobley (tenor sax), Horace Silver (piano), Doug Watkins (bass) and Art Blakey (drums). Horace Silver had the record deal with Blue Note records at the time, so the first 10" issue of this session came out as the Horace Silver Quintet. On February 6, 1955, the group did another 10" session which was first was issued as the Horace Silver Quintet, Volume 2.
With the advent of the 12" LP, Blue Note combined these two sessions for the release of their 18th 12" LP and called this new issue "Horace Silver and The Jazz Messengers" On November 23, 1955, the group recorded four night club sets of material that became the volumes of "The Jazz Messengers At the Cafe Bohemia."
During the Messengers' year between November 13, 1954, and November 23, 1955, Hank, who had now turned 25, was also busy recording his own first session as a leader for Blue Note, along with sessions as a sideman with Kenny Dorham, Julius Watkins, and J.J. Johnson. From this period on, Hank became very much in demand, doing many recording dates and contributing many compositions to those recordings. He made several albums as a member of Miles Davis' quintet, and the list of other giants he recorded with is staggering (John Coltrane, Freddie Hubbard, and on and on!). Hank is one of the most acclaimed tenor saxophonists in modern jazz history, recording well over 100 of his own original compositions. Recognized by musicians and critics alike as one of the most important and eloquent jazz instrumentalists of all time, he left an indelible mark on the post-bop jazz scene.