Wahoo

– Bennie Harris

The bebop classic you never knew you knew! This song is perhaps the most familiar contrafact of Perdido, but it most often appears as a shout chorus for Perdido itself. Our lead sheet reflects the first issued recording, from 1948 by Tadd Dameron.
All selected items will be available for download after purchase.
Recording:

Tadd Dameron - The Tadd Dameron Band 1948

Recorded on:

November 6, 1948

Label:

Jazzland (JLP 68)

Concert Key:

B-flat

Vocal Range:

, to

Style:

Swing (medium)
Trombone - Kai Winding
Tenor Sax - Allen Eager
Piano - Tadd Dameron
Bass - Curly Russell
Drums - Kenny Clarke
One of the all-time classics of bebop,
Wahoo
is a jam session staple—but hidden in plain sight! This contrafact of Juan Tizol's
Perdido
is often played as a shout chorus for
Perdido
itself, but it certainly stands alone as its own song. It's a riff head with a descending sequence going down and up the chords, with bouncy rhythms in a distinctive swing-to-bebop style. As with many bebop songs, the bridge is open for a soloist.
Our lead sheet is based on the first recording to be issued with the title
Wahoo
, by
Tadd Dameron
's quintet. There are a few alterations in both the melody and changes that are frequently left out, but we feel it is important to show how this song was originally played. The 2nd and 4th measures feature a little descending arpeggio at the end of the main melody phrase; many later versions have a rest here, as this one does in the 6th measure. The changes are smoothed out with half-step motion from the 3rd through 6th measures; standard
Perdido
changes work here but these substitute chords really take the song to the next level. Also check out the melody in the 3rd measure, with D♭ instead of D♮ to fit these different changes. There are rhythm section hits that complement the melody, which are also shown in our lead sheet.
This recording has an eight-measure rhythm section intro, not shown in the lead sheet. The in head is played in unison, with the bass doubling the melody in the 7th and 8th measures of the A section. On the out head, the tenor sax adds a harmony part a sixth above the trombone melody on the A sections, and an octave lower (a third below the melody) at C.
Bennie Harris himself appears on one recording of
Wahoo
, a live bootleg with Charlie Parker's quintet from Boston in 1951. There are two other live recordings of
Tadd Dameron
playing this song with his own groups, as well as two more by Miles Davis' quintet with Dameron in Paris in 1949.
Trombonist Kai Winding and tenor saxophonist Allen Eager, the front line of this Tadd Dameron live recording, appear together on one studio recording in a quintet setting. Recorded in January 1947, two of the four songs from this "Teddy Reig's All Stars" session for Savoy were first issued on 78s with
J.J. Johnson
and
Fats Navarro
tracks on the other sides.
Don Sickler:
I miss the jazz writer and historian Ira Gitler a lot. Fortunately I knew him for many years and was able to get his in-person take on many scenes, but I'm still coming up with questions I'd like to ask him. His fantastic book: "Jazz Masters of the 40's" was a "jazz bible" for me even before I met Ira. He had personal involvement with so many artists, including Bennie Harris. Ira always told me that Bennie was one of
the
guys you needed to hook up with when you came to New York City: "
Dexter Gordon
has mentioned him as the 'first cat I met in New York. He was into it already at that time. He was telling me about Bird.'"
More from Ira: "In the mid-forties, Bennie was on the Fifty-second Street scene with Coleman Hawkins, Don Byas, Oscar Pettiford, and Clyde Hart. With Hart he recorded his own
Little Benny
(later known as
Ideology
and
Crazeology
and recorded by Bud Powell as
Bud's Bubble
) and
Denzil Best
's
Dee Dee's Dance
; with Byas he was heard on
How High the Moon.
In the fifties, he recorded with Charlie Parker on Bird's "South of the Border" album, but by then his lip was not in good shape. . . The most lasting of his contributions have been his songs. In addition to
Ornithology,
he wrote
Reets and I
. . .and the line on
Perdido
that appeared under its correct title,
Wahoo
, on a
Tadd Dameron
Jazzland LP
of "live" performances from the [Royal] Roost.
Wahoo
refers to Harris' Indian lineage. His father was a full-blooded San Blas tribesman according to Leonard Feather."
Michael Cuscuna relates another great Bennie Harris story: "In 1956,
Tina Brooks
met trumpeter-composer Little Benny Harris at the Blue Morocco, a Bronx jazz club. Harris took the young tenor player under his wing and taught him the vocabulary and intricacies of modern jazz. Alfred Lion remembers Bennie Harris calling him up to a Harlem club to hear Tina in late 1957. He [Alfred] immediately began recording Brooks on Blue Note at a regular pace."
Bennie also helped trumpeter
Joe Gordon
(and many others) when they arrived on the New York scene.
All selected items will be available for download after purchase.
Recording:

Charlie Haden - Sophisticated Ladies

Recorded on:

2010

Label:

EmArcy (0602527508160)

Concert Key:

B-flat

Vocal Range:

, to

Style:

Swing (medium up)
Tenor Sax - Ernie Watts
Piano - Alan Broadbent
Bass - Charlie Haden
Drums - Rodney Green
This modern recording is more typical of how
Wahoo
is played (including as a shout chorus for
Perdido
), compared to the original
Tadd Dameron
recording. The rhythm section hits are still there, but the changes are closer to the original
Perdido.
There are no descending arpeggios at the end of the melody phrases, leaving more space for drum fills as most versions do. Interestingly, the first ending of the A section has a little of that chromatic chord movement that appears in the 3rd and 4th measures on Dameron's version.
Rather surprisingly, this Charlie Haden recording is only the second studio version of Wahoo, at least issued with that title. Though many of the bebop masters of the '40s and '50s performed Wahoo, none made studio recordings of it. Charlie Haden's occasional collaborator, pianist Paul Bley, actually got to play Wahoo with Charlie Parker on a TV broadcast in Montreal in 1953; this was announced as Perdido but the original Perdido melody was not played. Charlie Parker's versions leave out the descending arpeggio in the second and fourth measures as in this Charlie Haden recording.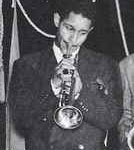 April 23, 1919 – February 11, 1975
Composer and trumpeter "Little" Bennie Harris has often been overlooked, but he was quite an important figure in the early bebop scene. Several of his compositions have become standards, including Crazeology (also recorded with the titles Little Benny and Bud's Bubble) and Reets And I. Though he's not always credited, he also co-wrote Ornithology with Charlie Parker. Another of Bennie's songs is Wahoo, which is not always recognized as its own song but frequently played as a shout chorus for Juan Tizol's Perdido. Read more...