Bennie Harris
April 23, 1919 – February 11, 1975
| | |
| --- | --- |
| Instrument | trumpet |
| Birthplace | New York, NY |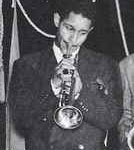 Composer and trumpeter "Little" Bennie Harris has often been overlooked, but he was quite an important figure in the early bebop scene. Several of his compositions have become standards, including Crazeology (also recorded with the titles Little Benny and Bud's Bubble) and Reets And I. Though he's not always credited, he also co-wrote Ornithology with Charlie Parker. Another of Bennie's songs is Wahoo, which is not always recognized as its own song but frequently played as a shout chorus for Juan Tizol's Perdido.
In the 1940s, Bennie played with all the bebop masters and gained a reputation as someone to know on the Fifty-second Street scene, with a knack for recognizing newly arrived talent. Dexter Gordon remembered Bennie as "the first cat I met in New York. He was into it already at that time. He was telling me about Bird." Bennie stopped playing in the '50s, but was still keeping his ear to the ground; he notably "discovered" Tina Brooks in 1956, introducing him to Alfred Lion of Blue Note Records the following year. That he was still composing around this time is shown by Mid Nite Lament, a beautiful, plaintive ballad he copyrighted in 1961. This song was recorded in 1963 by the obscure West Coast alto saxophonist Earl Anderza, featuring the great trumpeter Dupree Bolton, but the recording was not released until 2007.
Bennie Harris played on relatively few recordings, especially with smaller combos. He first recorded as a member of Earl Hines' big band in 1940, and later played in Boyd Raeburn's and Dizzy Gillespie's big bands. Bennie's last studio recording is perhaps his best-known: one of Charlie Parker's two sessions of Latin songs, later issued together as "South Of The Border." This 1952 session featured Bird's working quintet at the time, with pianist Walter Bishop, Jr., bassist Teddy Kotick and drummer Max Roach; there are three live bootleg recordings of almost the same lineup (with Roy Haynes on drums) from 1951, which include versions of Ornithology, Crazeology, and Wahoo.