Harold "Tina" Brooks
June 7, 1932 – August 15, 1973
| | |
| --- | --- |
| Instrument | tenor sax |
| Birthplace | Fayetteville, NC |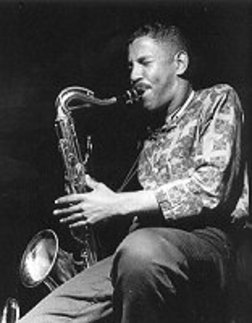 Harold Floyd "Tina" Brooks and his twin brother Harry were born in Fayetteville, North Carolina, becoming the youngest of eight children. The family moved to NYC in 1944. By then, Harold was already being called Tina (pronounced Teena), a grade school nickname that came from his tiny or teensy size. Around this time, he started playing the C Melody saxophone, studying with his 10 year older brother David "Bubba" Brooks, Jr. Bubba had become an established R&B tenor saxophonist, and in late 1950, Tina subbed for Bubba for a few months in pianist Sonny Thompson's R&B band. Tina made his first recording with this band.
Throughout the early fifties, Tina worked with local New York Latin bands and various R&B outfits such as those of singer-pianist Charles Brown and trumpeter Joe Morris. In 1953 or 1954, he went on the road with pianist Amos Milburn, then joined Lionel Hampton's orchestra for the spring and summer of 1955. But he found this to be little more than another R&B gig: not enough room to stretch out.
In 1956, Brooks met trumpeter-composer Little Bennie Harris at the Blue Morocco, a Bronx jazz club. Harris took the young tenor player under his wing and taught him the vocabulary and intricacies of modern jazz. Tina also developed a close friendship with the brilliant pianist-composer Elmo Hope.
Alfred Lion, the owner of Blue Note Records, remembers Bennie Harris calling him up to a Harlem club to hear Tina in late 1957. He immediately began recording Brooks on Blue Note at a regular pace. He first hired Tina for a marathon Jimmy Smith recording on February 25, 1958, which led the next month to Tina's first leader session for Blue Note on March 16. This led to another session with Jimmy Smith, followed by several Kenny Burrell sessions and Howard McGhee's June 13, 1960, "The Connection" session, which was recorded less than 4 months after Freddie Redd's original "The Connection" album for Blue Note.
During 1959 and 1960, Tina was the understudy for Jackie McLean in Jack Gelber's play The Connection, which was presented by The Living Theater in NYC. The pianist, composer, and musical director was Freddie Redd. This association led to three more Blue Note dates: both McLean and Brooks were on two Redd sessions; and under McLean's leadership, Tina played on and wrote three of the six tunes (Medina, Isle Of Java and Street Singer) for a wonderful sextet date.
Through his association with Blue Note, Tina met another great and underrated tenorman, Ike Quebec, who introduced him to Freddie Hubbard. Tina recorded on Freddie's first album as a leader on June 19, 1960, and contributed two originals, both the title composition Open Sesame and Gypsy Blue. Less than a week later, June 25, Freddie recorded on Tina's "True Blue" session, Tina's first released album as a leader.
Tina Brooks would only record two more sessions before his death; his own "Back To The Tracks" (October 20, 1960) and "The Waiting Game" (March 2, 1961). He was only 28 years old when his recording career ended.
Two of Tina Brooks' combo arrangments are available from Second Floor Music: Open Sesame and Street Singer.
Below, the only filmed performance of Tina that we know about, being featured with David "Fathead" Newman on Quincy Jones' "The Birth Of The Band" with the Ray Charles Orchestra. Ironically this was two years after his last recording date. If you fast forward to 5:30 you see "Fathead" leaving the sax section, followed by Tina, and their Tenor Sax battle.